How does one measure success? What do you look at to determine whether or not you're doing well? Which numbers matter the most when deciding if you're "making it" or not?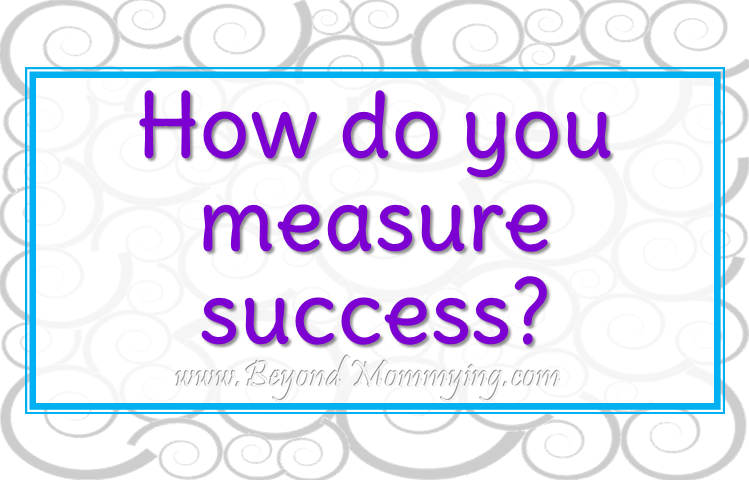 I've never been much of a goal setter, especially when it comes to Beyond Mommying. Because life can get so crazy, so fast, it's hard to hold myself to certain criteria or expectations. So instead, I always do my best and take it as it comes.
Could I be more successful if I actually set goals and worked my booty off to achieve them? Of course.
Would I see better results if I had an actual plan and followed it? I'm sure.
Should I have a set schedule and work hard to stick to it? Probably.
But, the thing is, every time I've set goals, made a plan or set a schedule for Beyond Mommying, the universe has laughed in my face then sucker punched me in the gut. Every time I decide to try something new and try to finally get over the "hump," life throws a whole ton of other stress and responsibility on my lap.
So I've decided to stick with what I know, do what I know works and do more as I have the time, patience and energy.
I fully expected to come in here this quarter with a big "womp, womp." I thought I'd have to share that this quarter wasn't so good for Beyond Mommying.
I've always generally based Beyond Mommying's success on pageviews. Because my main goal has always been to have people see my work, pageviews are the most logical basis for measuring growth and success. My pageviews went down 12% this quarter. It's mostly because May was my best month ever and while July and August saw steady increases over previous months, September was not so good.
I was ready to report that I only saw a 4% growth in followers overall and that for the first time, I actually saw a decrease in followers (on google+, if that even matters.) And while my Facebook and Twitter growth was only about 1% each, I saw 7% growth on Pinterest and Instagram and an 8% increase in my subscribers list.
Honestly, it all feels so minimal. So small. So much work for such little gain.
And as I procrastinated actually writing this post, I looked over my quarterly earnings. And that's where I found the silver lining:
My lowest quarterly spending in 2 years.
My largest quarterly income to date.
And for the first time since destroying my computer earlier this year, Beyond Mommying is back in the positive for earnings. And Beyond Mommying's total income is at almost 5 times higher than it's ever been (just before smashing my computer.)
So, when I look at quarter 3, I didn't make strides where I expected to. I saw negative growth by one metric and minimal by another but had by best quarter ever in another area.
I guess there's a lot of different ways to measure success, and sometimes it's not where we're used to looking.