One of my biggest fears when undertaking homeschooling my children was teaching them how to read. With all the programs out there and emphasis on teaching early reading skills in schools these days, I figured teaching a child how to read had to be hard. And I wasn't sure I was up for  the task.
Note: This post contains affiliate links and images meaning if you click any product link and make a purchase, Beyond Mommying may receive a small commission which is used for the upkeep of the website; however, it will not affect your purchasing experience in any way. Read more about our use of affiliate links.
Turns out, I haven't had to worry about it thus far. My eldest came out of public kindergarten reading and my second daughter taught herself to read during our daily rest time when she was five.
But now I've got two boys coming up who will eventually have to read and I'm still not sure I can do it. I've worried about my eldest son's speech development for so long and I've been unsure about how that would affect his learning to read. He's always been bright but speech and reading have to correlate, right?
What I do know now, though, is that over the years I've found some great resources for teaching early reading skills that I love. And I've developed a small progression I plan to follow to get my boys reading as well as my girls do.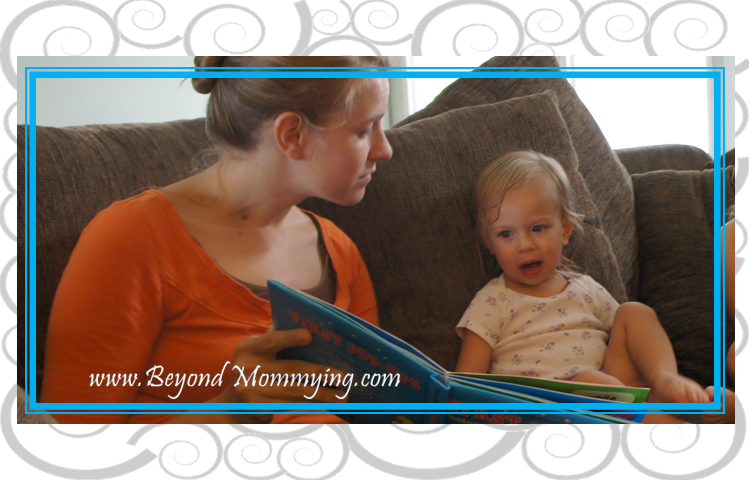 Step 1 of teaching early reading skills:
Learn the ABCs.
Obviously, right? I've previously talked about ways to help kids learn their ABCs and I've been using a lot of those resources with my 4 year old from singing the song, reading tons of ABC books and making our own picture alphabet to hang on the wall. All of these things help reinforce a child's knowledge of the letters and also help to introduce the sounds each letter makes.
Step 2 of teaching early reading skills:
Work on Letter Sounds.
One of the keys behind learning to read is knowing what sound each letter makes and how those sounds work together to make words. For phonics and beginning reading, I love the Explode the Code series of workbooks. They start with level A, B, and C which introduce the consonants and sounds then there are levels 1-8 which teaches early reading skills and reinforces spelling rules followed by the Beyond the Code series which works on reading comprehension.
My second daughter began with the 3rd book when I found it at a dent and ding sale and I've now started my son with book A and it's really helping him to understand how letters relate to reading (he's been begging to do spelling like his big sisters for a few years!)
(affiliate links):
Step 3 of teaching early reading skills:
Learn Sight Words.
My eldest daughter's only homework the first two months of kindergarten was to learn 100 sight words (don't get me started on homework in kindergarten…) I wrote out all the sight words on note cards and we practiced, a lot. During that time, I developed a lot of games to use the sight words instead of just flashcard style drills and I used the same games with my second daughter. Things like sight word sentences helped them to not only learn the words, but how the words were used.
Step 4 of teaching early reading skills:
Build Fluency.
Once kids know their letters and sounds and all the basic sight words, that's when reading gets exciting because they can start reading books to you! I wasn't sold on the early phonics books like the BOB series with my eldest daughter, but I picked up a boxed set really inexpensively for my second daughter and I'm sold! Each book in the series covers a different vowel sound so there's a lot of rhyming which helps fluency and a lot of the sets also include a workbook or two to help reinforce spelling rules and early reading skills.
(affiliate links):


Step 5 of teaching early reading skills:
Start Spelling Practice.
For me, spelling practice is an integral part of advancing reading skills. Because the English language is so wonky, spelling practice helps to solidify the words kids read which then helps translate to their writing. I'm not a big believer in traditional spelling practice, though, where lists are based around a theme and some words are super easy (like "red") and others are much more difficult and use different rules (like "purple" or "orange.")
Instead, spelling to me should follow a logical sequence of spelling rules and like sounds. Which is why I love the Sequential Spelling series. A series of seven books, the program teaches the rules of spelling through daily practice rather than rote memorization of random words so kids pick up new words faster, sometimes even on the first try! I generally start Sequential Spelling when my kids get to first grade work and plan to continue working through the books until they're done. (Each book is designed to take approximately one school year but we're off schedule because my kids have been working through grade levels faster than the typical year and because we don't always stay on top of regular spelling practice.)
(affiliate links):


From the start:
Read, read, read, read, read!
The easiest thing parents can do to promote literacy and early reading success is to read to their kids. Read to them often, read different things and read different ways. Read their favorite silly stories and things that rhyme. Read them chapter books, a little at a time, and non-fiction books. Point to the words as you read or ask questions along the way, ask you child to read words they know and sometimes just read.
How do you encourage your child's early reading skills at home?
Pin it!