This post was sponsored by SwimWays as part of an Influencer Activation for Influence Central and all opinions expressed in my post are my own.
Spending most of our parenting journey in Florida (and visiting often the few years we were abroad) means we've accumulated tons of experience with babies in the pool. Taking baby swimming for the first time can certainly be a daunting endeavor, but, with a little preparation and safety know-how, taking a baby swimming for the first time (or hundredth) can be fun for everyone!
And while having fun when taking a baby in the pool is always the end goal, swimming safety in the pool always has to come first. This year, National Learn to Swim Day is May 20, and it's the perfect time to talk about baby swimming safety and ways to help baby get comfortable in the water.
There are a few simple things you can do to keep baby safe while having fun when taking baby swimming:
Stay close at hand
Until swimming independently, adults need to be hands-on children of all ages including babies. Babies that are only a few months old are best being held high by an adult, being careful to keep baby's  head and ears out of the water. Older infants with good head control that aren't sitting independently yet should still be held in an adult's arms but can be allowed more freedom to kick their legs and splash their arms.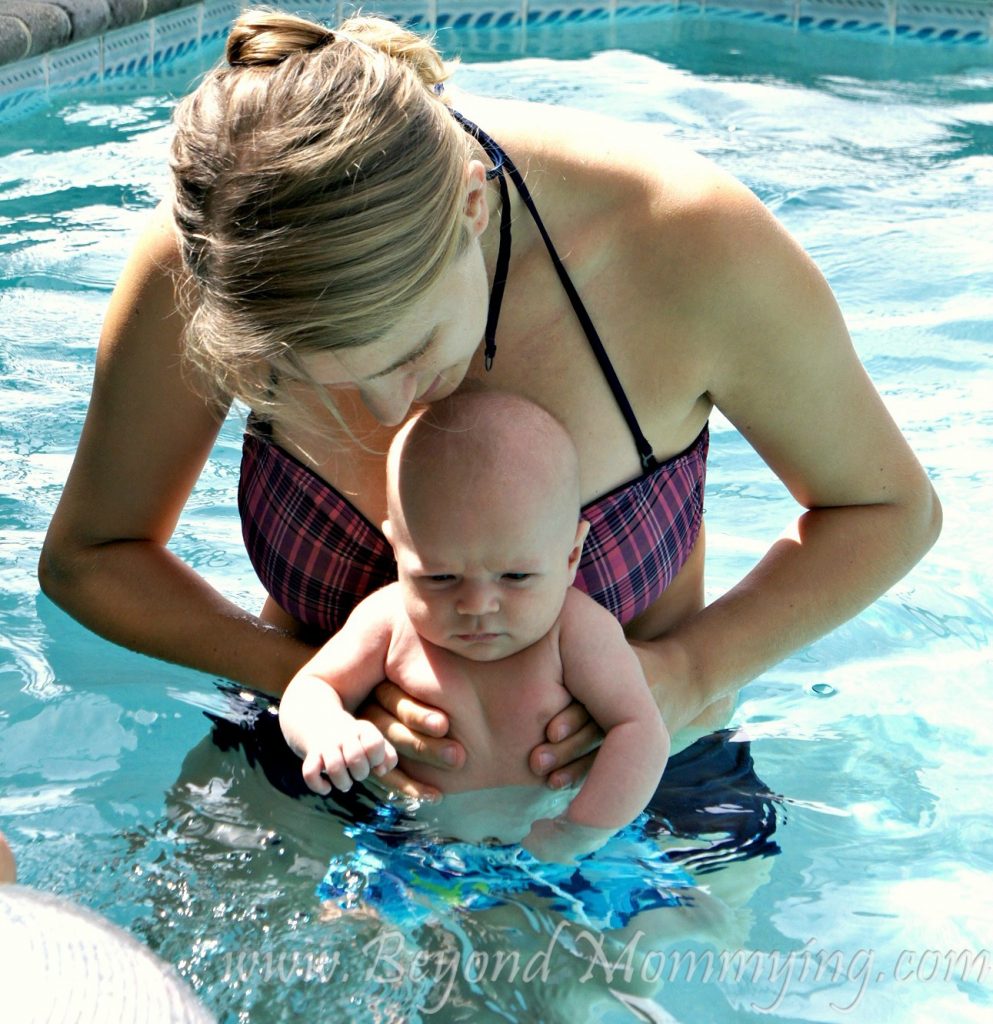 Use a baby float
Once a baby is sitting well independently, though, one of the best ways to get baby comfortable in the water is using a float specifically designed for babies and toddlers like the SwimWays Baby Spring Float which is designed with safety and fun in mind. The mesh seat is comfortable for baby while keeping him/her safe and snug and the wide circumference prevents tipping (a problem we've had with other style infant pool floats). It also provides a mesh play space for toys or splashing which discourages babies from wanting to lean over the side of the float to get the water. Even when using a baby float, though, it is important that an adult is nearby and watching the baby at all times.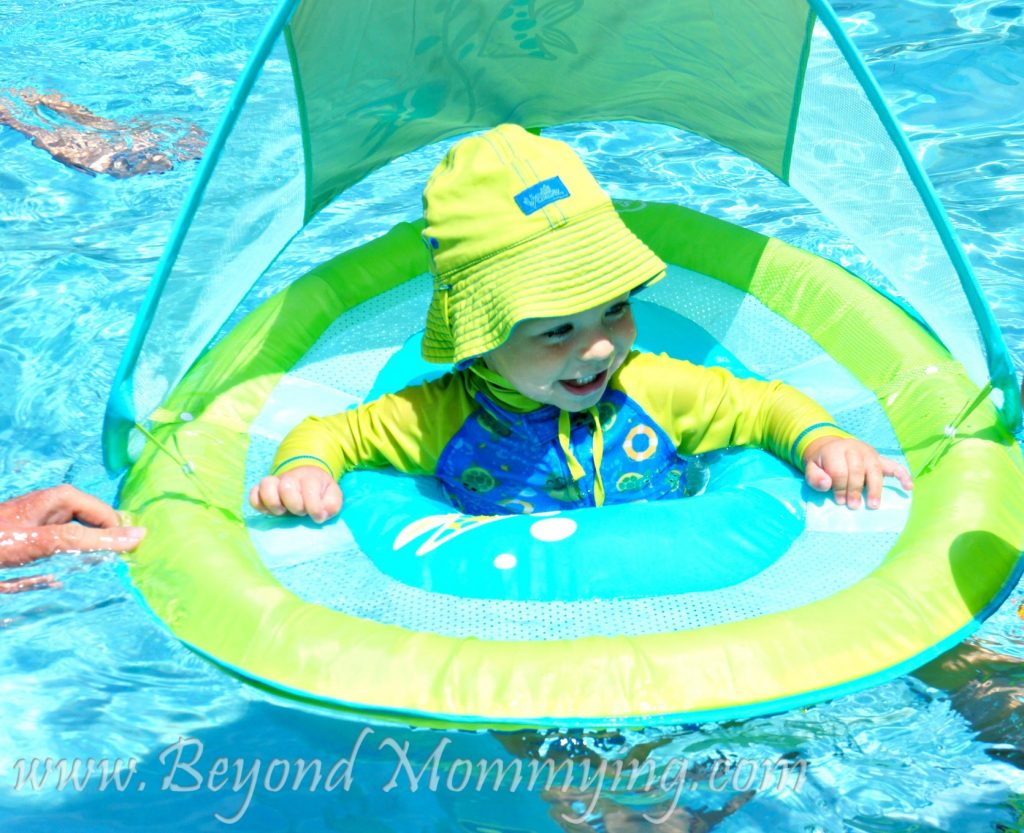 Provide sun protection
Because baby skin is so sensitive, it's important to protect it from sun exposure when using an outdoor pool. Sunscreen isn't usually advised for babies under 6 months old so the safest and easiest way to protect baby's delicate skin from the sun is to use a long rash guard with UPF protection as well as a wide-brimmed hat. The canopy on the SwimWays Baby Spring Float also features an adjustable and removable sun canopy with UPF 50+ that provides shade and added sun protection.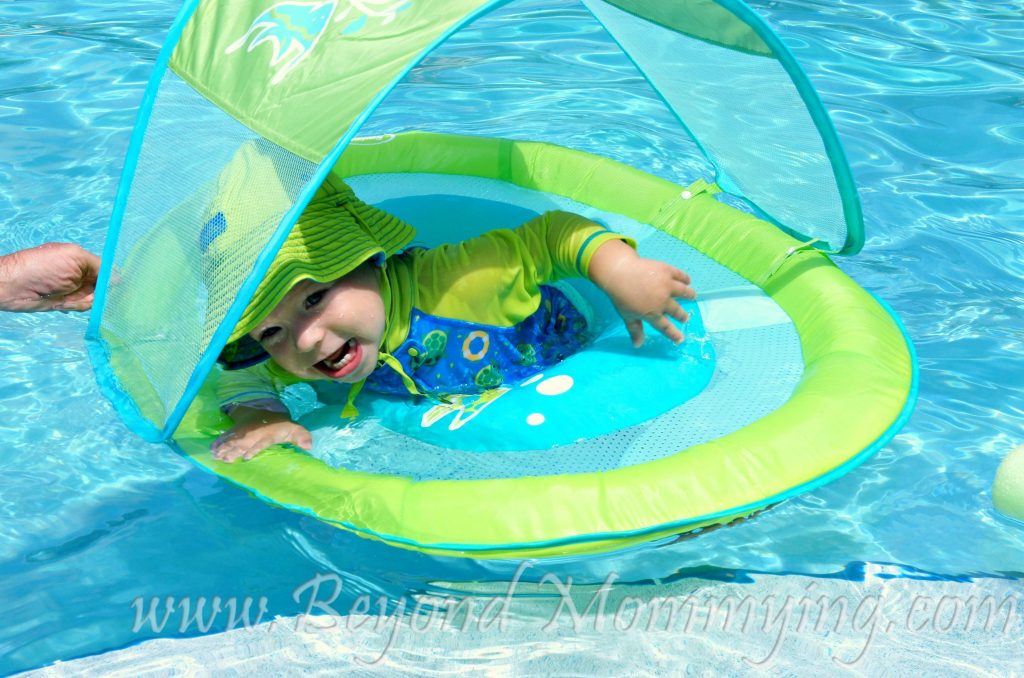 Keep it short
While taking baby swimming can be fun, the sun exposure and playing in the water can also be exhausting for babies and small children. I've also found that the longer a swim goes, the more comfortable everyone gets and it's easy to relax on the initial water safety diligence. If you get bored monitoring a baby or young child in the pool, it's time to get out! Baby's skin can also be more sensitive to the chemicals used to keep pools clean so keeping a baby's time in the pool short and sweet can be the best and safest way to go.

Be prepared
No one expects a day at the pool to go bad but it's important to always be prepared. Here are a few other safety tips for a day of fun at the pool:
Teach your kids to be safe in and around water.
Get ready, including changing and applying sunscreen, before entering the pool area.
Bring everything you need with you to start including sunscreen, towels, toys and floats for babies like the SwimWays Baby Spring Float.
Keep a phone nearby.
Never leave children of any age unattended in or near the water. If you need to go out of the pool area for some reasons, make all children get out of the water and wait in a safe place away from the pool (always take tiny ones with you).
Know the signs of drowning and the risks of secondary and dry drowning.
Set the stage for learning to swim
The main key to water safety for babies, kids and adults of all ages is getting comfortable in the water with the ultimate goal of learning how to swim. As a leader in helping children learn to swim and promoting water safety through education, SwimWays began National Learn to Swim Day in 2012 which is celebrated on the third Saturday each May as a chance to raise awareness of the importance of learning water safety and how to swim. Their 3-step system begins with the step 1 Baby Spring Float, available at Target online and in-store,  is designed for babies between 9 and 24 months as a way to introduce babies to the pool and get them comfortable in the water while providing balance and support to make swimming fun!