Last week my children (and hubby) got to experience a truly unique experience: flying at iFLY Fort Lauderdale. We didn't warn the kids we were going or hype them up. I woke the girls and said "get up, we're going flying!"
Honeybun immediately started asking questions, trying to piece together our adventure. "On the airplane? Are we packed?" "Are we jumping out of an airplane?!" "So we're going hang gliding?" "With the squirrel suit thingies?"
We deliberately didn't give them too much information because we wanted them to be surprised when we got there. And it worked! All three of my bigger kids were immediately enthralled by the wind tunnel and the instructors practicing inside when we arrived at iFLY Fort Lauderdale.
We were immediately greeted by the friendly staff and began the check-in process. The computer check-in process was simple requiring your name and birthdate; medical information including medications taking; and agreeing to a liability waiver.
We were then shown to a classroom where basic rules and procedures were covered such as the hand signals that would be used in the wind tunnel before hubby and the kids suited up to fly. For safety and comfort it is recommended that all fliers wear tight fitting athletic shoes, no jewelry and that long hair be put up in braids.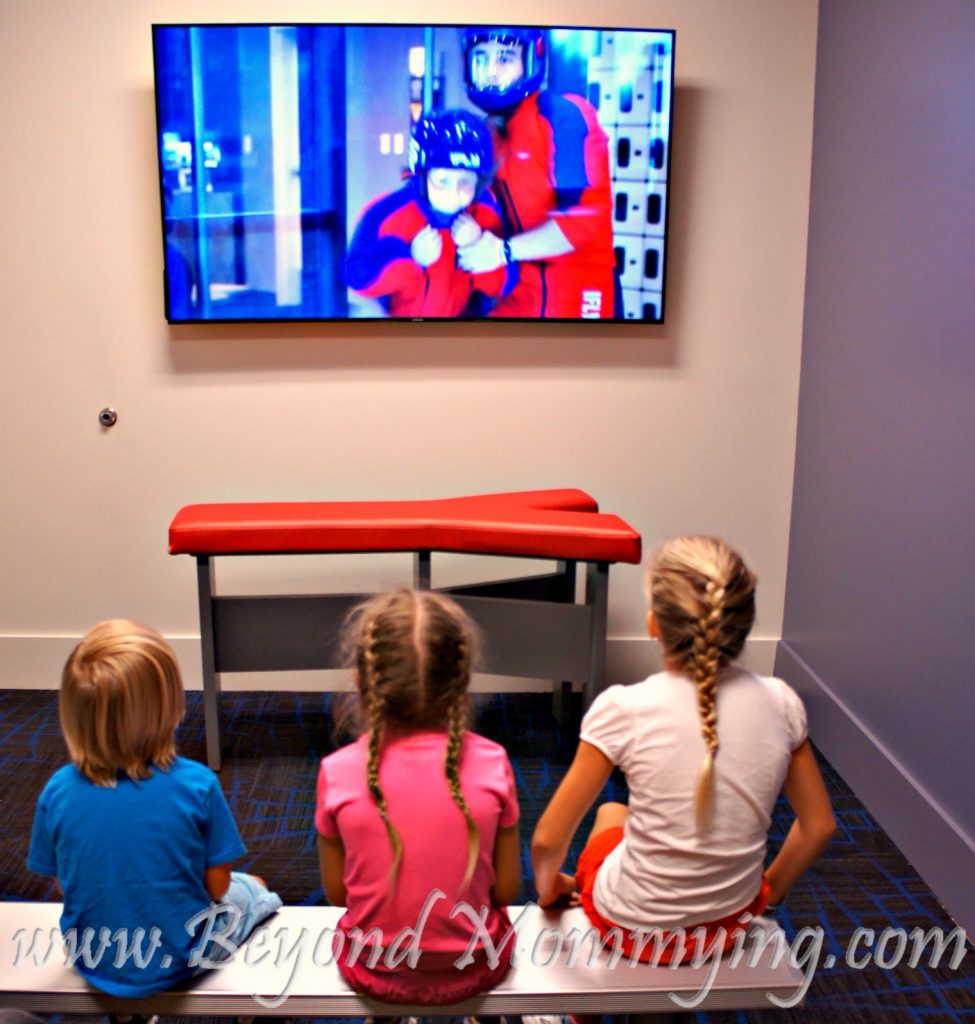 Our flight instructor took the kids one-by-one into the wind tunnel to fly. iFLY Fort Lauderdale and other iFLY locations set an age range for flying at 3-103 and while I was admittedly skeptical about how my three year old would fare in the wind tunnel, our flight instructor was well-trained and knew exactly how to manage even our tiniest little flier.
Each flier got two turns, lasting about 60 seconds each. The first flight was to get used to the sensation and procedure and each of the kids was able do some independent flying where the instructors let go of them momentarily and let them float on their own.
The second flight for each, the instructor held them closely and each up towards the top of the wind tunnel. Pipsqueak, who was strapped to me in a carrier while the others flew, was delighted by watching his brother, sisters and daddy and I could see the excitement on my kids' faces as their cheeks flapped in the breeze and even through the safety googles they all wore.
Even though I chose to be the official baby wrangler and photographer instead of flying during our visit to iFLY Fort Lauderdale, we all had an amazing time and my entire family can't wait to get back and do it again!
Afterwards, this is what the kids had to say about their experience:
Sugarplum: "It was fun and I flew high, high, high, high, high up in the sky!"
Doodle: "The air is cold. [It felt like] going up high and you can't touch me! Did you see my foot right next to the glass? 'Cause my foot right next to you!"
Honeybun: "It was really fun. I felt like I was flying up high, not in a big glass dome thing. It would be fun to have a birthday party there!"
iFLY Fort Lauderdale offers not only birthday parties but also hosts corporate events and STEM field trips. It's suggested to book your visits ahead to secure your desired time slot which can be done on the iFLY Fort Lauderdale website where you'll find all the information you need for a great visit!