"Where do you see yourself in 5 years? 10 years? 20 years?" It's a question we get asked often from the time we're small and it's one I've never been good at answering. But I can tell you, I have a very vivid plan of where I'll be in 20 years from now:
My husband and I will be newly retired, we may even have a few grandkids and will probably still have a child or two in college.
It's a very stark difference from the life I'm living now with diapers and gymnastics and homeschooling, but it's a future I look forward to and one I can feel confident about achieving because my husband and I have been working our entire lives for that future.
We've been saving for retirement for as long as we've been working and we started planning for our children's eventual college expenses as soon as they were born, all of which has led us to a place where we feel comfortable with our future financial security.
We've saved in many different ways over the years and spread our investments out over different programs and types of accounts. And while the money for college has been set aside for a long time and growing rapidly, we've been unsure on exactly what the right direction for college investment was for our family.
After years of research (not joking!) we recently decided to take the plunge and sign both girls up with a Florida Prepaid College Plan.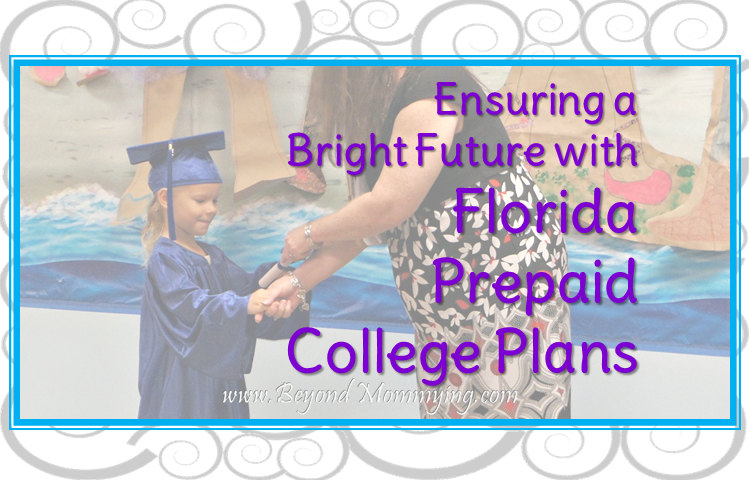 It took us awhile to settle on the Florida Prepaid College Plan because we had a lot of concerns and questions, probably the same "what ifs" most parents have:
What if my child doesn't want to go to a school in Florida?
No problem, the Florida Prepaid College Plan can also be used to offset the costs of other colleges and universities all over the world. Check out the list of all participating schools.
What if my child gets a full ride scholarship?
No problem, you'll get a refund equivalent to the amount that would be paid to a Florida public college or university.
What if we move out of Florida?
No problem, the Florida Prepaid College Plan still guarantees in-state tuition rates for the beneficiary even if you're residing outside the state at the time of college enrollment.
What if my child doesn't want to go to college at all?
No problem, his/her Florida Prepaid College Plan can easily be transferred to another child.
What if the markets crash or something else catastrophic happens?
No problem, your investment is fully guaranteed by the State of Florida and the program has never run a deficit in the almost 30 years it's been around!
Basically, signing up for a Florida Prepaid College Plan is a win-win-win.
But let's not ignore the elephant in the room: cost. College is expensive, there's no way around that. But the Florida Prepaid College Plans make saving for college so easy with monthly installments spread out between now and when your child is actually ready to go to college, making it a small investment now that pays off big later.
You can use the simple calculator on the Florida Prepaid website to see how much your monthly cost would be.
Another great thing about the Florida Prepaid College Plans are the number of options available. For example, when we recently signed up Honeybun, who is in 4th grade, we were given the following plan options: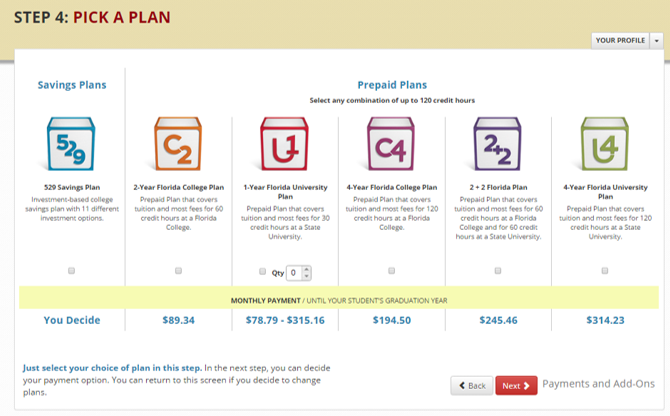 The 2-year Florida College Plan is less per day than a cup of coffee!
The 4-year Florida College Plan comes out to be less per day than a fast-food lunch.
And even the 4-year Florida University Plan is less per day than a yoga class.
But also keep in mind that the earlier you start, the lower your payment will be per month. For us, enrolling Pipsqueak would cost less than $200 a month for the 4-year Florida University Plan, about the same as I'd pay for a single week of daycare!
I'm not going to pretend like it's a small cost, it is definitely a big investment, but it's an investment that will have a big impact on a child's future and a family's future financial stability. And at the rate college tuition has been rising each year (it is estimated that by 2030 a 4-year degree could cost over $200,000), investing in a Florida Prepaid College Plan now can save your family hundreds of thousands of dollars in the end.
Here's the only catch: this year's open enrollment for the Florida Prepaid College Plans closes February 28! But the good news is, you have until April 20 to make the first payment and can save 50% off your enrollment fee with the promo code: BLOG1617.
Signing up is quick and easy (we did both girls in under 15 minutes, even with having to fumble around finding their social security numbers) so what are you waiting for? Time is ticking on securing your child's bright future with the help of a Florida Prepaid College Plan!
If you're not ready to jump on board just yet, don't miss the #StartingisBelieving Twitter Party on February 23 at 9pm ET, hosted by @blogginmamas. Get all the details here.