Our family photos are some of my most treasured possessions. Having a visual record of how our children and family has grown is amazing. Over the years, we've done many family photo sessions with various different photographers and I think we've become pretty good at making it through family pictures without too much drama.
And while a good photographer and just plain luck with the kids being in the right mood helps tremendously, I've found the most important thing to ensuring successful family pictures is preparation!
Timeline for Preparing for a Family Pictures:
A few weeks to months ahead:
Research photographers if you don't already have one in mind
Ask for suggestions from friends
Look at the photographer's websites/Facebook pages and make sure their style and aesthetic matches what you hope to get out of your family pictures
Think about locations
What kind of family pictures are you hoping for? Do you want a studio session or outdoors?
If outdoors, research places that have what you want and are good for family photos (beach, wooded area, park, flower garden, etc.)
Pick a date and book with the photographer
Contact your chosen photographer with your preferred date but have a few other dates in mind that could work also. The earlier you book you family photo sessions, the more likely you are to get your fist choice date.
Discuss your preferred locations and ask for his/her opinion and suggestions for similar places that could achieve your desired look.
Pick a time that best suits your kids, even if you have to compromise good lighting. Having well-rested, cooperative kids that aren't hungry or grumpy will make up for any imperfections in lighting.
Two to three weeks before:
Think about what you want out of the pictures
All family group photos? individuals? pairs/small groups? some with just mommy and daddy? just kids? mommy and baby? daddy and boys? etc.
Do you want posed pictures with everyone smiling or action/lifestyle shots? or a mix of both?
Decide what elements you want in your family photos. Will you use any props, special poses or locations?
Discuss your expectations with your photographer
Have a short discussion with your chosen photographer about exactly what you're hoping to capture with your family pictures
Discuss props and who will bring what. For example, with a newborn photo shoot, does the photographer have baskets s/he often uses and is familiar with posing babies in or do you need to provide something?
The week before:
Plan what you're going to wear
If you aren't sure what to wear, ask your photographer for suggestions for his/her style and your chosen location
Try to stick to a common color theme to keep pictures cohesive and focus on faces rather than clothing. It doesn't mean everyone had to wear the exact same color top and bottoms, but pick a few colors and put everyone in those colors.
Make sure everything fits and is clean and free from stains and freshly pressed.
Don't forget about shoes and accessories! Do the kids have shoes that fit and go with the look of the outfits you've chosen? Will anyone wear jewelry?
Think about how you want to style everyone's hair and if you need anything special to achieve your desired 'dos.
Talk about taking family pictures with the kids
Have a few casual conversations with your kids about the family photo shoot: where you're going, when you're doing the family pictures, who the photographer will be, if you'll be doing anything special before/after the family photos
Discuss behavior expectations and what the process will be like.
The day before:
Confirm the time and place with your photographer
Discuss where exactly you'll meet if going to a public place like a public beach or large park
Put your outfits and props together
Pull everything out and put together in one place. Make sure it all matches the way you expected it to.
Gather all the props you plan to bring and put them in one place together
Prepare the kids
Remind the kids about the family pictures you're doing and review expectations again
Give the kids a shower/bath (unless you need their hair clean and wet to style in the morning)
Put the kids to bed a little earlier so they're fresh for the family photos
Pack a family pictures survival kit including:
The day of pictures:
Eat well before the family photo session
Have a good breakfast or lunch before going to take the pictures. If the family photo shoot is going to run into a normal meal time, give the kids a good snack before going.
Leave plenty of time to prepare (it's always better to be ready too early than be rushing around running late!)
Think about things outside of your regular routine that might take longer than expected such as styling hair, putting on makeup, lots of little buttons on dress-up baby/toddler clothes.
Plan for extra travel time in case of traffic or leaving the house late. A few minutes delay getting to your location could mean missing the best light or more people milling about which could make it hard to get a good background for your family pictures.
During the family photo shoot, be patient and flexible
Try to do the most posed group pictures to start before the kids get bored and/or ornery.
Mix up posed and action pictures as well as large group, small group and individual pictures to give everyone a break now and then
If the kids start to lose interest, try to draw their attention to other things: smell the flowers, feel the sand, sing a song together, look for bugs or birds.
Don't push it. You'll get more out of your family pictures if you keep it simple and relaxed. Remember that you're there to capture that moment in time, whatever that moment may end up being!
Also check out Q&A with a family photographer and don't miss this great giveaway from Andrea for three lucky readers!
GRAND PRIZE: One FREE photography session of the clients choosing, up to 1.5 hours, 60+ edited images (family, maternity, children, or couples session – excludes weddings and newborns).
SECOND PRIZE: 50% off a photography session of the clients choosing, up to 1 hour, 40+ edited images (family, maternity, children, or couples session – excludes weddings and newborns).
THIRD PRIZE: 15% off a photography session of the clients choosing, up to 30 minutes, 20+ edited images (family, maternity, children, or couples session – excludes weddings and newborns).
Please see full terms and conditions below.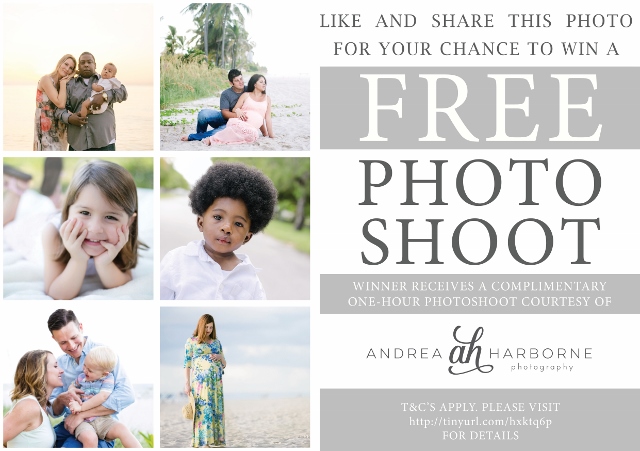 1. Contest ends November 1, 2016. Winners will be chosen and notified within 48 hours and will have 24 hours to respond in order to claim their prize.
2. First prize must be redeemed by December 5, 2016. 2nd and 3rd prizes must be scheduled by December 5, 2016 for a date prior to March 31, 2017.
3. Family of Melissa Roy and Andrea Harborne are not eligible to enter.
4. Prize has no monetary value and cannot be exchanged, sold, gifted, or used in any way other than the above. These sessions are for the winners only.
5. Contest is open to everyone, but the photoshoots will take place within 20 miles of zip code 33312 (Florida).
6. By entering this giveaway, you are consenting to receive periodic e-mail updates and information from Beyond Mommying and Andrea Harborne including information on future giveaways and promotions (your e-mail will never be shared and you can unsubscribe at any time, see Beyond Mommying's full privacy policy).
7. This giveaway is in no way sponsored or endorsed by Facebook, Twitter, Pinterest, Instagram or any other entity, prize fulfillment is the sole responsibility of Andrea Harborne.