This past weekend was a little crazy. Not only am I getting ready to drive across the country with the kids, I decided to have Honeybun's best friend over for the night. It was my girls' first sleepover and something we'd been talking about doing for a long time.
But, of course, as planning and excitement got underway, I quickly realized the fun was not going to end well for Sugarplum. I know little-sister-third-wheel-syndrome well and so let Sugarplum have a friend over, too.
So there Hubby and I were, with our two girls, our two boys, plus two extra girls. And while everyone had fun and there weren't any fights or drama, it was exhausting to say the least!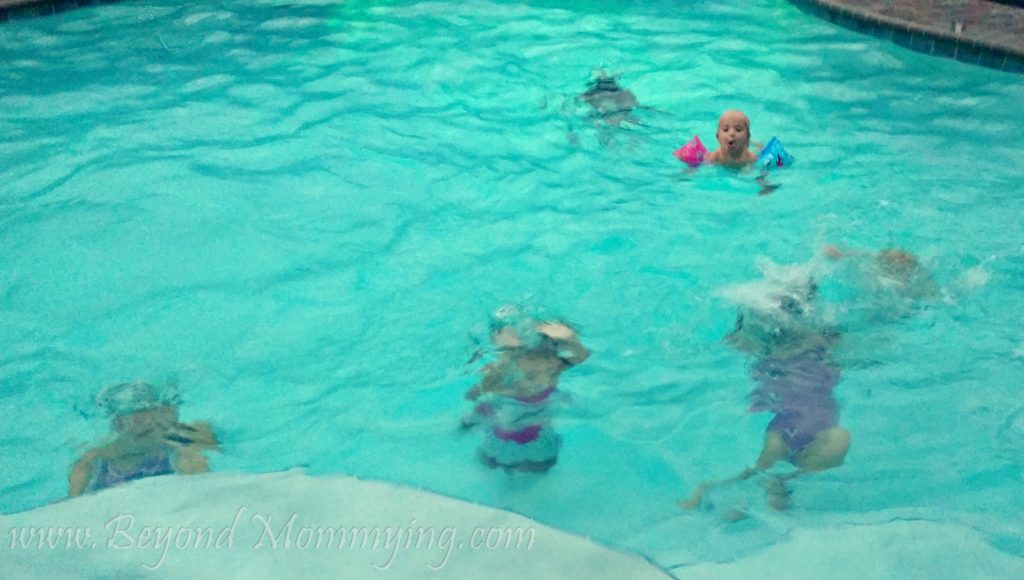 But I'm not going to say our drama free first sleepover was by chance, there were definitely some things I did to ensure a good time for all.
Here are my tips for surviving a girls' first sleepover:
Pick friends carefully
Sleepovers have become a bit taboo in the parenting world. They are high up on the list of "scary things" that we are told are never safe for our kids. I for one, though, think sleepovers are a great opportunity to give my kids a little independence and "real world" experience.
But just as I will be super picky about whose house I let them stay at in the future (so far it's only been with Grandmas and Grandpas), I am just as picky about who I welcome into my house for the night. Here were my criteria:
I must know the child well. I must feel comfortable with their personalities and typical behavior.
I must know their parents well. There must be mutual trust between us.
They must get along with all of my kids. Even though both of my girls had a friend over, I will not tolerate anyone being left out or picked on.
I must be comfortable disciplining the child in order to keep everyone safe and happy. If I don't feel like I can redirect a child or tell them when they're acting inappropriately, they're not welcome in my house without their parents. (And yes, there are some children that I am not comfortable disciplining because their parents' style of discipline is vastly different from mine.)
Be clear on medical issues
It is so important when taking another child for the night that you know her allergies or other medical conditions. Make sure you get all medications for the children you're responsible for and know what the action plan is if something were to happen.
If you are dealing with a food allergy, take the time to read all the labels. Things are so mixed up that items you don't expect to have the child's allergen could have it hidden in there. And when in doubt, ask the parents before doing anything! (One of our guests broke out in hives from our cat after we were on the way to take her home, a quick text to her mom assured me that I didn't need to take further action.)
Set boundaries
It was important for me and Hubby to set some boundaries and basic rules for during the sleepover. We discussed the expectations ahead of time with our girls and were easily able to convey them to our guests as needed.
They were guidelines that we generally live by (like no leaving people out, boys/girls in separate changing areas, etc.) but reinforcing the expectations before their first sleepover helped the night and next morning go much smoother.
Have a game plan
If you know what your kids want to do and have a general idea of how the night and morning are going to go, it makes it easier for everyone.
We collected Sugarplum's friend then met Honeybun's friend and family for dinner. Afterwards, we came home and the kids swam then watched a movie. They were in bed around 11 and the next morning I made breakfast while the kids played and Sugarplum's friend got picked up around 10 and we took Honeybun's friend home after lunch. They got a little bored and ornery after breakfast but we put on another movie and everything went smooth from there.
What tips do you have for surviving first sleepovers?