Yesterday was a crazy, crazy day! It started withe the toddler sleeping until after 9 (which sounds fantastic but really jammed up the day!) Then we met a friend to do the girls' yearly homeschool evaluations. And after, while we were discussing lunch, my newly 9, Honeybun, asked if after lunch we could go shopping for a purse.
I wasn't completely blindsided, she's expressed interest in such things in the past, but this time was different. Because she's 9 now. And I'm reminded every day how grown up she's getting and while I'm working to give her more freedom and "big kid" responsibility, she's still totally my baby!
In the past I would have just brushed it off with a quick "you don't need a purse, you have tons of bags!" But she's 9! So instead my answer was, "Let's talk about it. What would you use a purse for?"
She said she wanted a place to keep her new mp3 player, some small games and a book or two for when we're at gymnastics and such. I can't really argue with that request and both girls have some birthday money they received so I agreed to go look at what we could find.
What I didn't expect was for it be nearly impossible to find something that met her needs. To find a handbag that is big enough for a book but not too grown up or expensive (she's thrifty like me) was quite a challenge!
We wandered for a good hour, looking at every handbag available and just as we were getting ready to give up and leave, I spotted the red clearance sticker on this one:
Big enough for a book? √
Pockets for keeping things organized? √
Not too expensive? √
Her current favorite color? √
Not too grown up? ???
I didn't want something that looked like a purse. I didn't want her to be targeted if she takes it out places and I don't want my car targeted if she leaves it in the back seat. Unfortunately all the "cutesy" ones were way too small to hold a book and the backpacks and messenger type bags were way out of her self-established price range.
But this one, this one could work. I showed her and she thought about it. Finally she said okay.
We checked out and as we were leaving and she was unwrapping the (long and atrocious) strap, I told her, "I think it's perfect but it probably needs a different strap." She agreed a shorter strap would be better, though I was thinking something with a fun pattern would help make it more age appropriate for her.
Because the strap it came with is removable and attaches through rings, it was really easy to put on a new strap. We decided to use a belt to create a fun new strap. We went through our options and found two we liked: one sparkly silver bow belt that she's outgrown and another white cut out belt that got accidentally sucked into the vacuum and ruined.
We really like both, but she's decided to go with the white for now (though I'll probably keep my eye out for a patterned belt that she could wear across her body) and she has already filled her bag up with treasures and is ready for her 9-year-old adventures!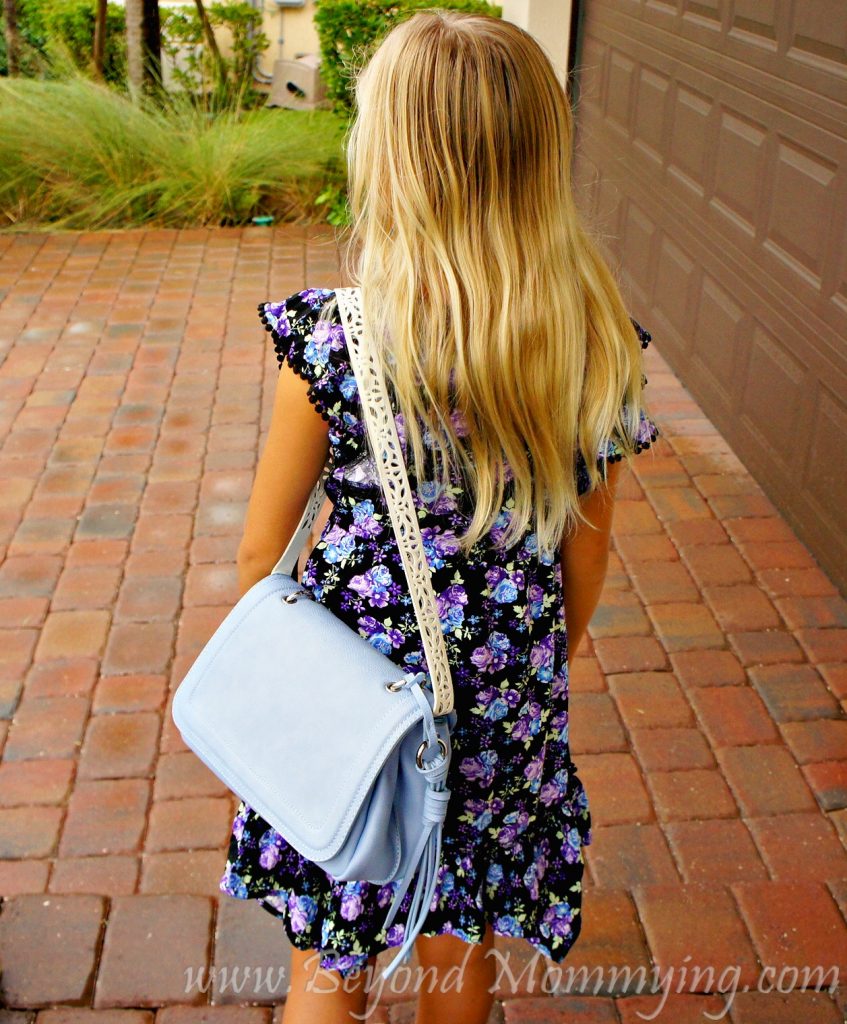 Pin it!