There are very few things I'm committed to doing homemade all the time. But two things I promised myself to always make my kids by hand is their Halloween costumes and their birthday cakes. Nine years in and I've yet to break either of those promises.
My first birthday cake for Honeybun 9 years ago was a bit of a disaster. I did a gluten free recipe and it wasn't good (at all) and the shape and decoration was pretty basic.
I did a white on white cake knowing that she'd be making a huge mess of herself and I've done the same for each of my other kids' first birthday cakes (though the recipes have gotten better!)
But as they grew, their requests became more complicated. My first every "fancy" cake was a butterfly for Honeybun's 6th birthday and since then I've done a banana cake, an airplane, a fish, a bird, an elephant, a star, and even a birthday pie.
So this year, when Honeybun asked for pointe shoes cake, I jumped right in. I decided to use crisped rice cereal instead of doing a regular cake because she isn't big on cake and we were doing cupcakes a week later for her party.
I really wanted to use fondant for the ribbons and bows but getting out to buy some wasn't an option. I figured there must be a way to make homemade fondant, right?
It turns out there is a way and it's actually super easy! Plus, it actually edible unlike the fancy cake kind that gets peeled off and discarded.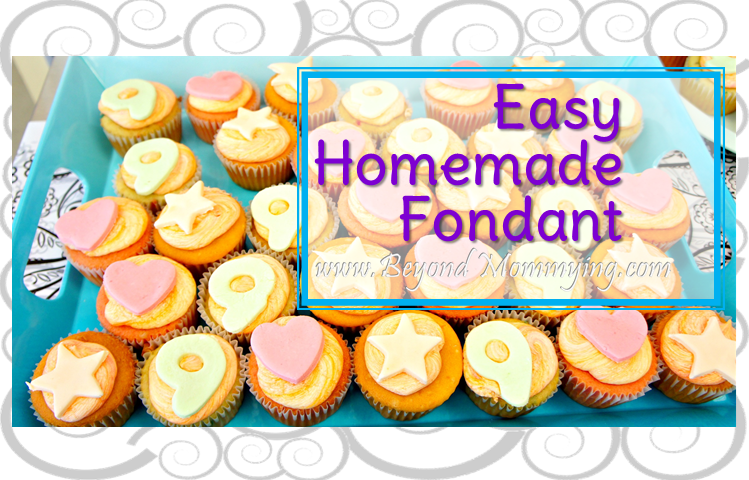 All you need for homemade fondant is:
Marshmallows
Powdered Sugar
Water
Gel food coloring (optional)
Flavored extract of choice (optional)
And the process for making homemade fondant is super simple:
NOTE: We chose to use colored marshmallows in lieu of adding color and flavor. We sorted the multi-colored mini-marshmallows then added some yellow to the green and orange to get up to the amount we wanted.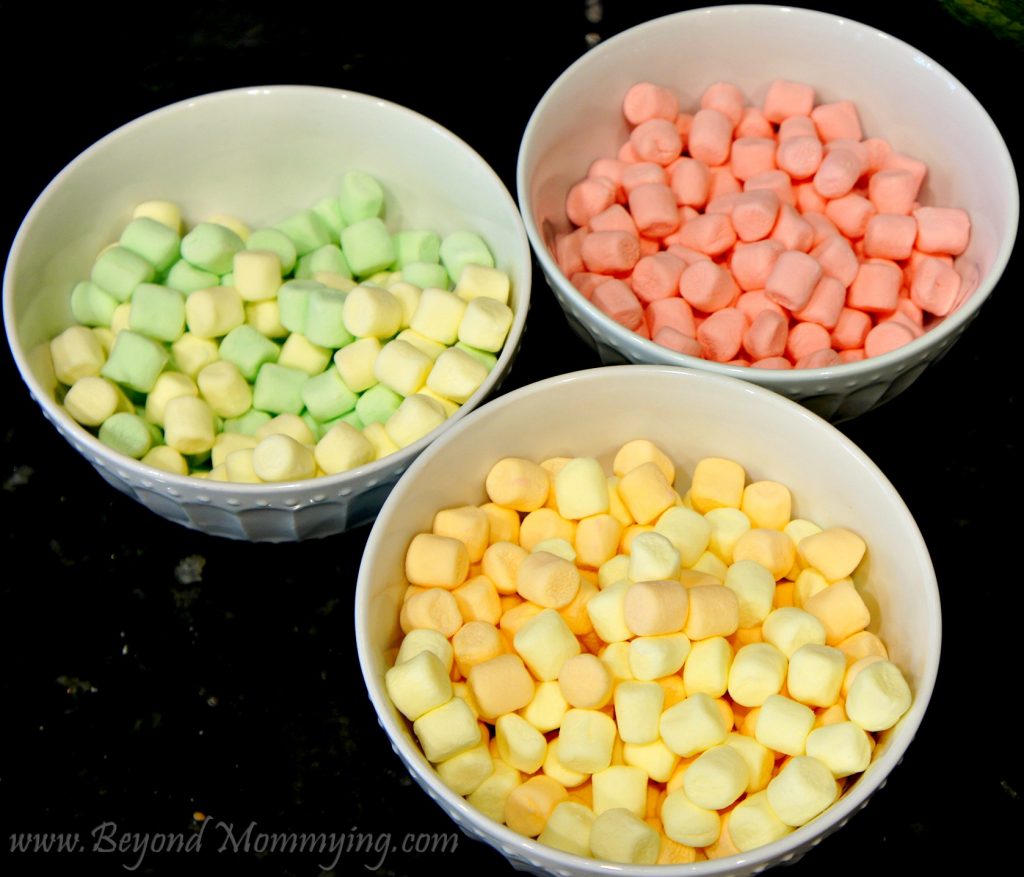 Weigh your marshmallows (if not using a full bag). A full 8 oz. bag of marshmallows should be more than enough to cover an entire cake. I used 3-4 oz. for just decorations and had plenty left over.
Combine your desired amount of marshmallows with 1 tsp of water per ounce of marshmallows in a larger, microwave safe bowl.
 Microwave for 30 seconds.
Stir and microwave in 10 second increments, stirring in between, until mixture is smooth with no marshmallow lumps.
Use an electric mixer to combine the marshmallow mixture with the powdered sugar. Use 1/2 cup of powdered sugar per ounce of marshmallows, adding a little at a time. Also add in the food coloring and flavor extract at this time if using. (You can mix by hand but it's hard and takes a long time!). 
After marshmallow mixture and powdered sugar are combined and mixture is barely still sticky, move to a flat surface dusted with more powdered sugar.
Knead the fondant until it is no longer sticky. 
Roll flat, turning the fondant over once in a while and dust with more powdered sugar as needed.
Use cookie cutters to cut your desired shapes for decorating or use to cover your cake.
We cut a variety of hearts, stars and '9's then placed on top of iced cupcakes. I also used the extra fondant to make oversized decorations for the birthday girl's oversized cupcake!