Our most recent trip to Massachusetts to visit hubby's family might be the longest trip we've ever taken up there with the kids. We had a wedding a few days after arriving and then Sugarplum wanted to spend her birthday there as well which was a week later.
To help break up the trip, we took advantage of getting away to a new place for a few days. We looked at different options that were driving distance including Montreal and Northern Maine but decided Portland was the perfect choice. Close enough for the kids to easily handle the drive with tons of things to do that would please every person in our family.
Here are the basics of traveling to Portland, Maine with kids:
Getting Around
Portland is actually a great walking city. There is plenty to do right in the city center and it's easy to walk to most places, though it is hilly so little legs may get tired. Paid public parking is available in lots and garages (most street parking we saw was 2 hour max) but we found the lots are not always close to what we wanted to see so we parked the car and walked every day we were in the city.
 Eating in Portland, Maine with kids
I was surprised to find that Portland is actually very big on food. And good food. There are plenty of options for every taste from local lobster to fancy pizza or your traditional fast food chains. Traditional choices for kids are available pretty much everywhere but we did find food prices to be a bit steeper than we're used to at most local restaurants.
Preparing for a trip to Portland, Maine with Kids:
I'm big on planning our trips ahead of time because traveling with kids makes things just a little bit more complicated as they aren't always very patient when you don't have a plan so I always did a lot of research and planning before our trips. Check out my tips and advice for:
What to see and do in Portland, Maine with Kids:
We drove up to Portland after breakfast on day one and drove back in the late afternoon on day three. Our drive was a little over 2 hours each way which left plenty of time each day to explore the area.
 Portland Children's Museum
Our first stop (after lunch) was the Portland Children's Museum. Like any group of kids, our kids all love children's museums where there is tons to explore and play with and the Portland Children's Museum was no different. What we expected to be a couple of hours visit as most children's museums are turned into an all-afternoon extravaganza because there is so much to see and do! My kids delightfully ran from area to area playing and exploring. There was plenty for my toddler to stay busy with (there is also a dedicated infant/toddler area) but amazingly the museum also kept my 9 year-old entertained our entire visit, too!
The huge firetruck was definitely a big hit with my kids as was the spaceship and rocking boat. There is also a full schedule or programs and activities throughout the day and we got to participate in a bee talk and watch the frog and turtle feedings.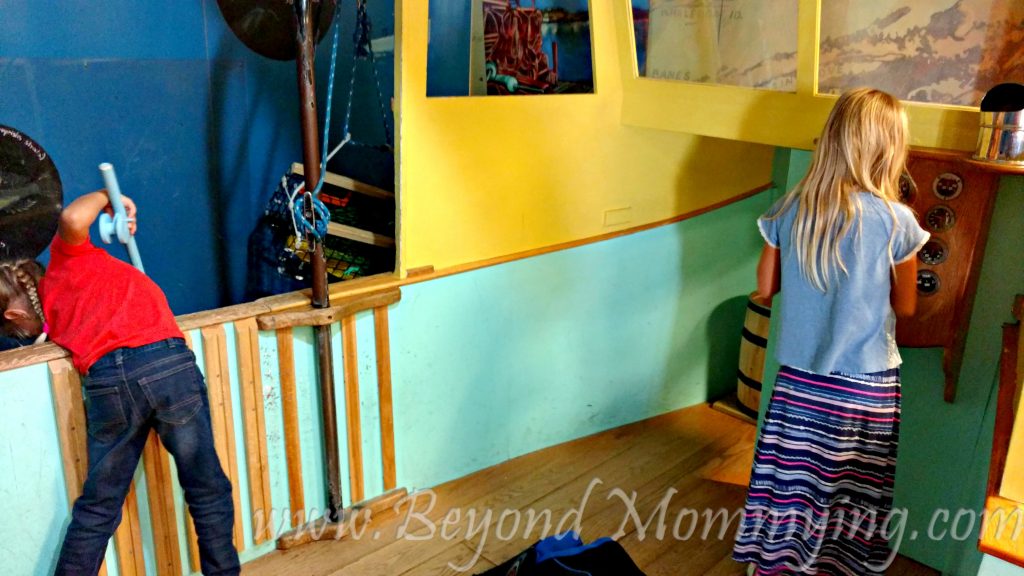 Maine Narrow Gauge Railroad Co. & Museum
My 4 year-old Doodle is a bit transportation obsessed and Pipsqueak loves trains as well so a visit to the Maine Narrow Gauge Railroad Co. & Museum was an easy decision. The museum features refurbished train cars to explore, toy trains to play with and we also caught story time (every Thursday morning.) A visit also involves riding the train up and down the bay which was, of course, a big hit with all the kids, but hubby and I also enjoyed the views of the bay and learning about the history of Portland and the narrow gauge railway that ran along the coast there about 100 years ago.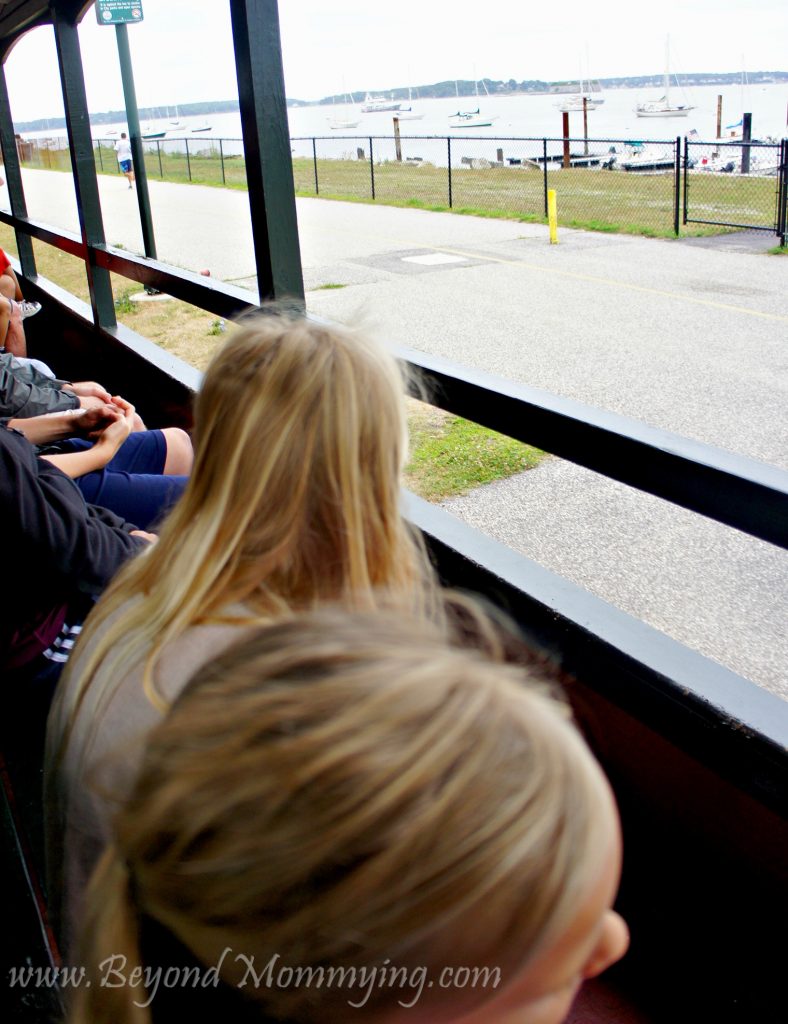 Portland Science Center
The Portland Science Center is not like other large science centers we've been to in other cities as it doesn't have a permanent display but rather hosts traveling exhibits in its space. During our visit, the Portland Science Center had the Real Pirates exhibit based on the recovery of pirate Sam Bellamy's Whydah which sank off the coast of Cape Cod 300 years ago.
While the museum wasn't exactly what we were expecting, the exhibit was fascinating and all the kids enjoyed it (other than maybe Pipsqueak who wanted to run around and scream). The girls learned a lot about pirates and life in the 1700s and Doodle was fascinated by all the boat items and, of course, pirate life. The Real Pirate exhibit is on through October 2017, visit PortlandScienceCenter.com to see what is currently on exhibit.
Ferry Boat Ride
You'd think living in South Florida, 10 minutes from the beach and with water all around, my kids would be experienced boaters. Unfortunately, we rarely get the opportunity to climb aboard a boat so we decided taking a ferry ride from Portland to one of the islands in the bay would be a fun experience for all.
We chose to go to Peak's Island because it was the closest and cheapest. The kids loved the boat ride through the bay (though it was windy and cool, especially on the top of the boat where we road so I highly recommend sweaters!) and my boys were especially fascinated by the cars getting on and off the boat.
Once on the island, you can rent bikes or golf carts to explore the small island. There are also a few small shops and a little beach area. We chose to get a little ice cream treat and hop back on the next ferry as I wasn't dressed for bike riding and I don't know that my boys would sit nicely in a golf cart (plus, I've got my car seat fanatical tendencies and am not sure about the safety factors of small kids and golf carts!) Besides, our decision to take the ferry out the island was more for the experience of the boat ride than exploring the island itself.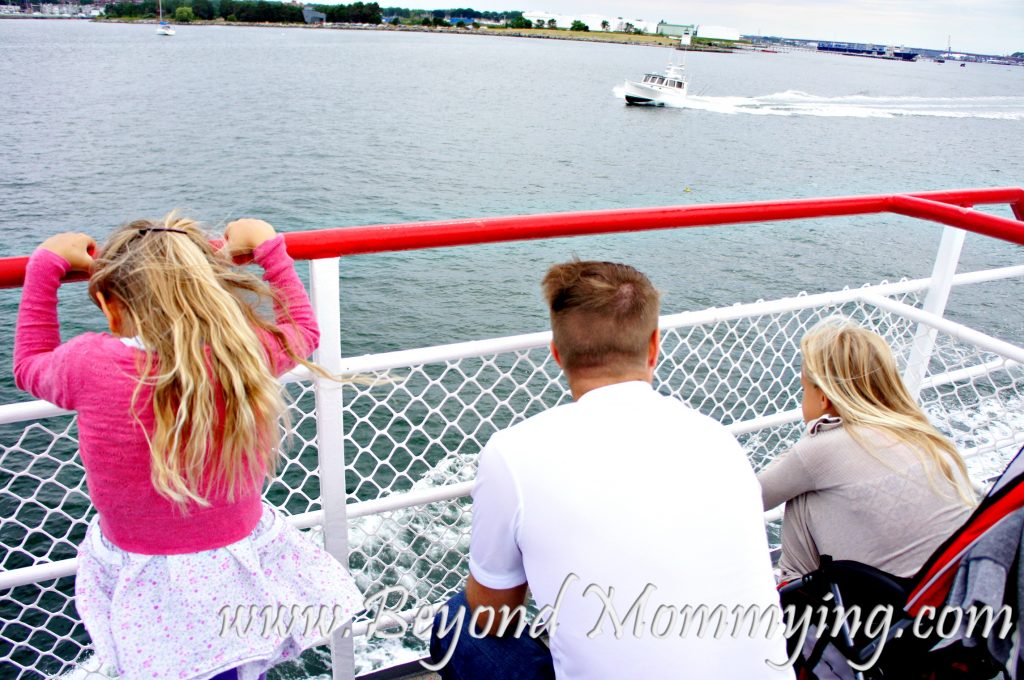 Deering Oaks Park
Deering Oaks Park is a large area south of I-295. It hosts the weekly Portland Farmer's Market on Saturdays and also houses one of the city's visitor centers in a "castle" built in the 1890s as well as a recently renovated playground area.
The playground at Deering Oaks features two climbing structures, one for older kids and one geared towards the tinier crowd, a huge slide built into the hill, a water feature, and of course playground staples like swings and a 4-person teeter-totter. We spent well over an hour there and my kids could have kept playing even longer!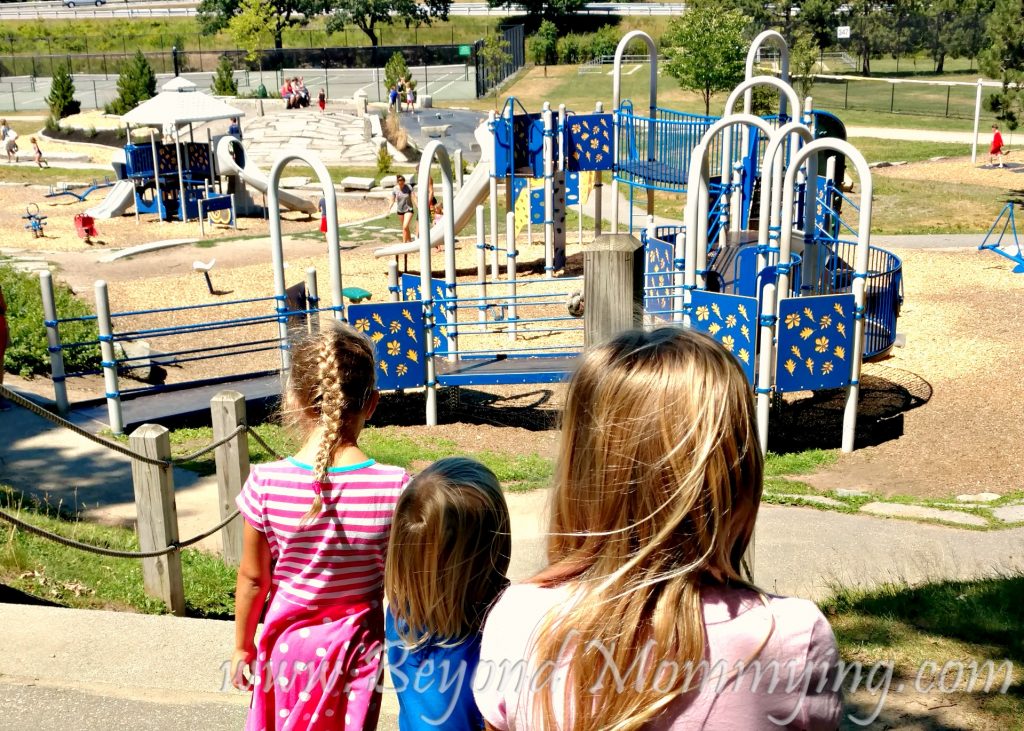 Breweries
Portland has many micro-breweries for the beer aficionado. And while hitting a brewery with the family isn't on the top of everyone's list, hubby and I have learned that many breweries are family friendly and will have board games for the kids to play or bigger games like corn hole, ping-pong or bocce ball which makes a visit fun for everyone.
We spent a few hours visiting with hubby's cousin at Bunker Brewing Company and the kids were definitely not bored!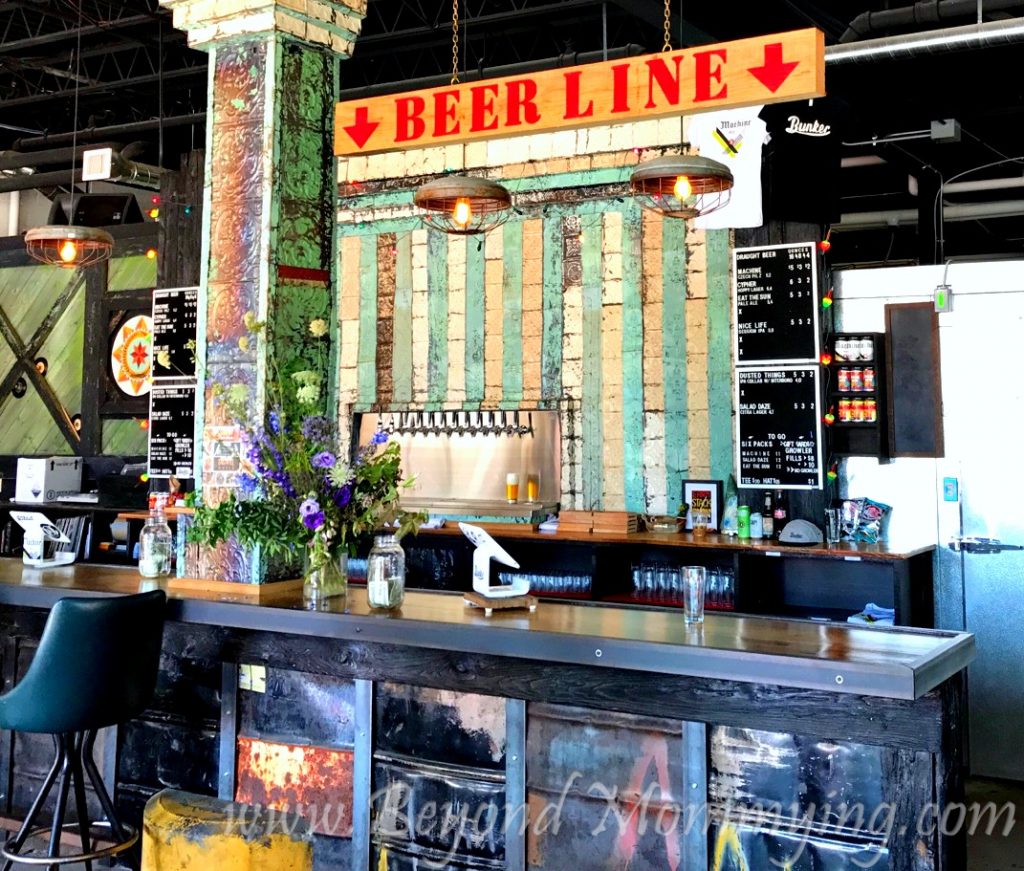 Other things to do outside the city of Portland, Maine:
L.L. Bean
About a half hour drive north of the Portland city center you'll find the L.L. Bean headquarters. While a huge outdoor store may not seem like the best family friendly destination, the L.L. Bean compound has a little something for everyone. It was well worth the short drive to visit and we spent more than half a day there.
We happened to catch weekly story time (every Wednesday morning) and my kids got to meet a local author who was there to read her book. There is also a cute little play area for kids nestled between a few of the buildings featuring little log houses and cute bears cut from stumps. And adults and older kids can participate in a number of outdoor adventures.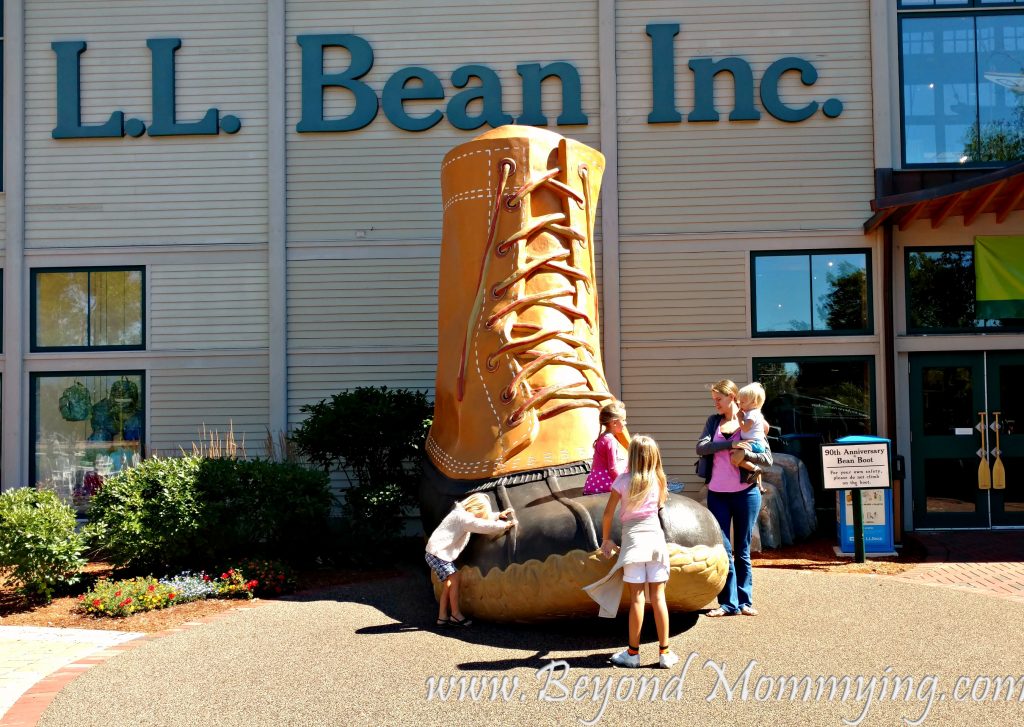 The Maine Mall
And about a half hour south of the city, in South Portland, is the Maine Mall. While shopping may not be a top priority when visiting Portland, there are a few highlights in the mall worth mentioning including Newbury Comics and Books-A-Million, neither of which are local to us in south Florida.
Newbury comics is a New England institution with not only comic books but also CDs, DVDs, books and tons of fan gear for your favorite TV shows, movies, comics and more. Books-A-Million is my favorite store for inexpensive kids books as they always seem to have a ton of stuff on clearance.