Whether young or old, Miami is a fantastically fun place to hang out. There is something for everyone and every interest. In fact, there is so much to do in Miami, we've only experienced a handful of things it has to offer even though it is just down the road.
But one thing that's been at the top of our "to do in Miami" list for years is Miami Seaquarium. Located right on Biscayne Bay, Miami Seaquarium offers the chance to get up close and see many different sea animals from dolphins and whales to rescued manatees and sea turtles.
While a regular ticket gets you in to see all the animals and the amazing shows, there are also many options to upgrade your visit to get up close and personal with some of the animals at Miami Seaquarium.
But the animal encounters at Miami Seaquarium are not just about petting the animals, it also very educational and covers the important topics of how to keep wild animals and our natural water areas safe for sea animals. We loved our visit and getting up close with the animals but we also learned a lot, too!
Here are 10 reasons to visit Miami Seaquarium:
All of the below animal encounters are part of the VIP experience or available at an extra cost, full details at MiamiSequarium.com.
Feed a Manatee
Growing up and visiting my grandmother's house on Florida's Intracoastal Waterway, I was mesmerized by these majestic animals that live in Florida's canals. Manatees are gentle giants of the sea and often fall victim to passing boats, sustaining bad injuries. The manatees at Miami Seaquarium are all rescued animals that have been rehabilitated and some will be re-released into the wild.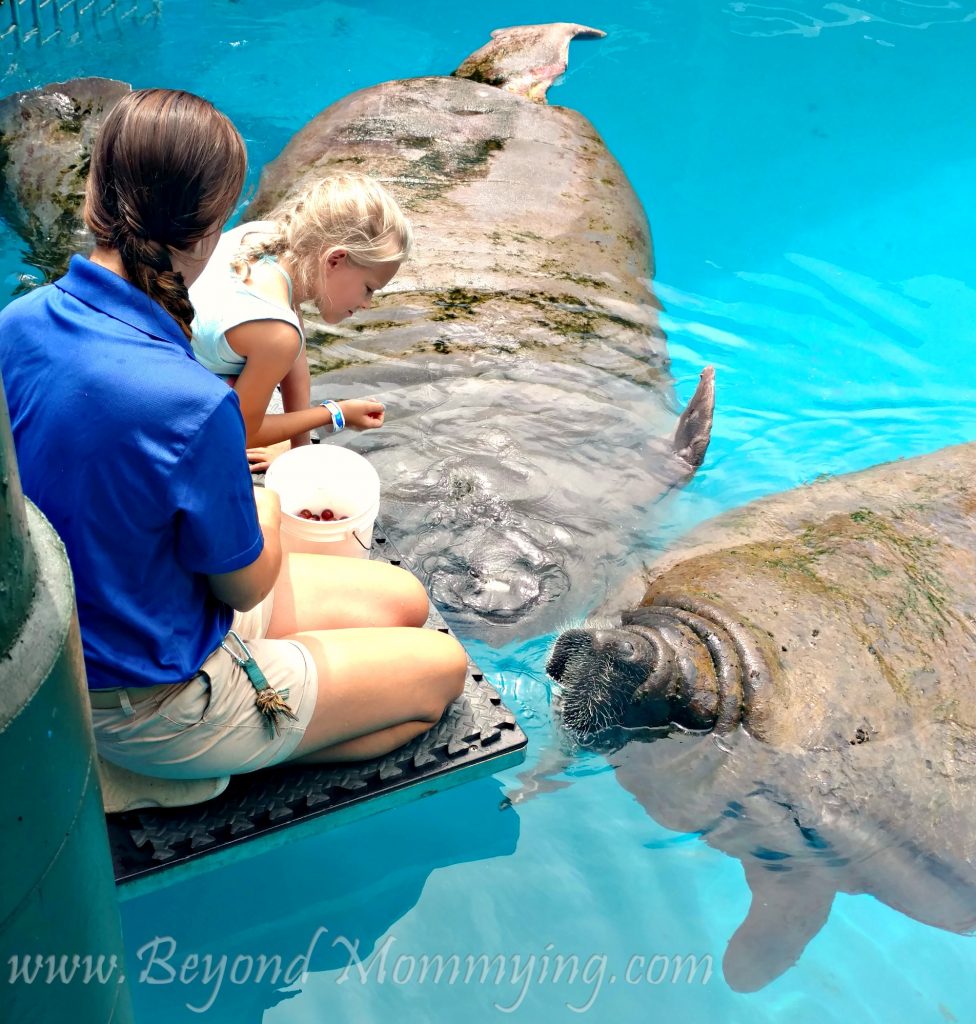 Did you know that manatees are herbivores and only eat plants? The kids got to feed the manatees grapes, sweet potatoes and special vitamins.
Meet a Dolphin
Miami Seaquarium offers many opportunities to get up close to the dolphins. While we just got to feed the dolphins and pet them (a life-long dream of mine fulfilled!), you can also swim with the dolphins and help do some training exercises with them!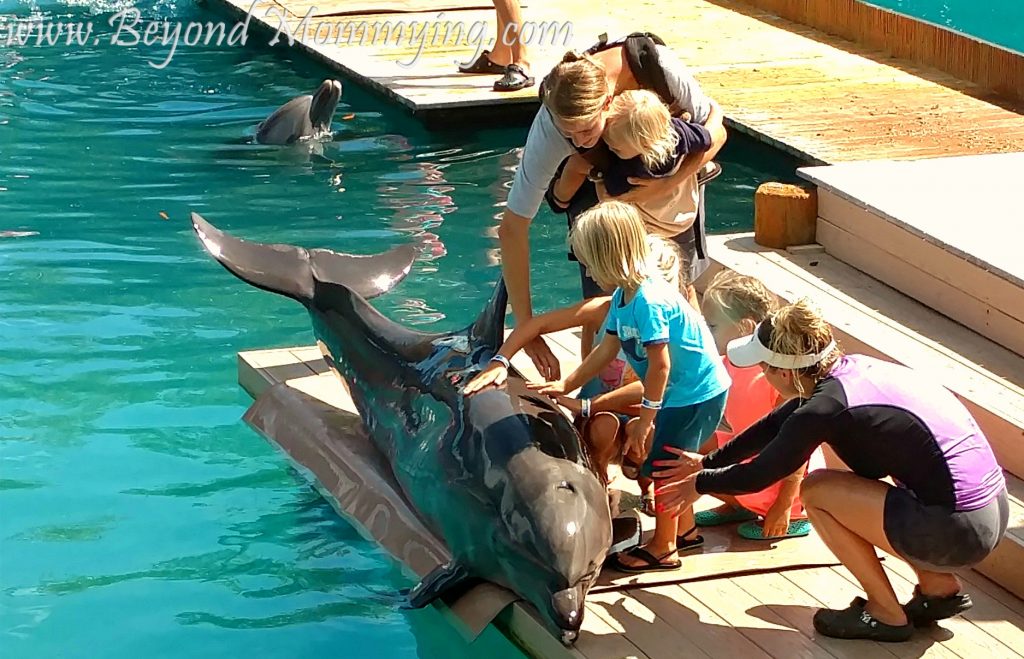 Did you know dolphins only use their fluke (tail) when swimming? Their flippers are for steering.
Hold an Exotic Bird
There is a large bird area filled with colorful, exotic birds including macaws, flamingos, parrots and others at Miami Seaquarium. When visiting, hold a bird on your arm and try to get him/her to talk to you.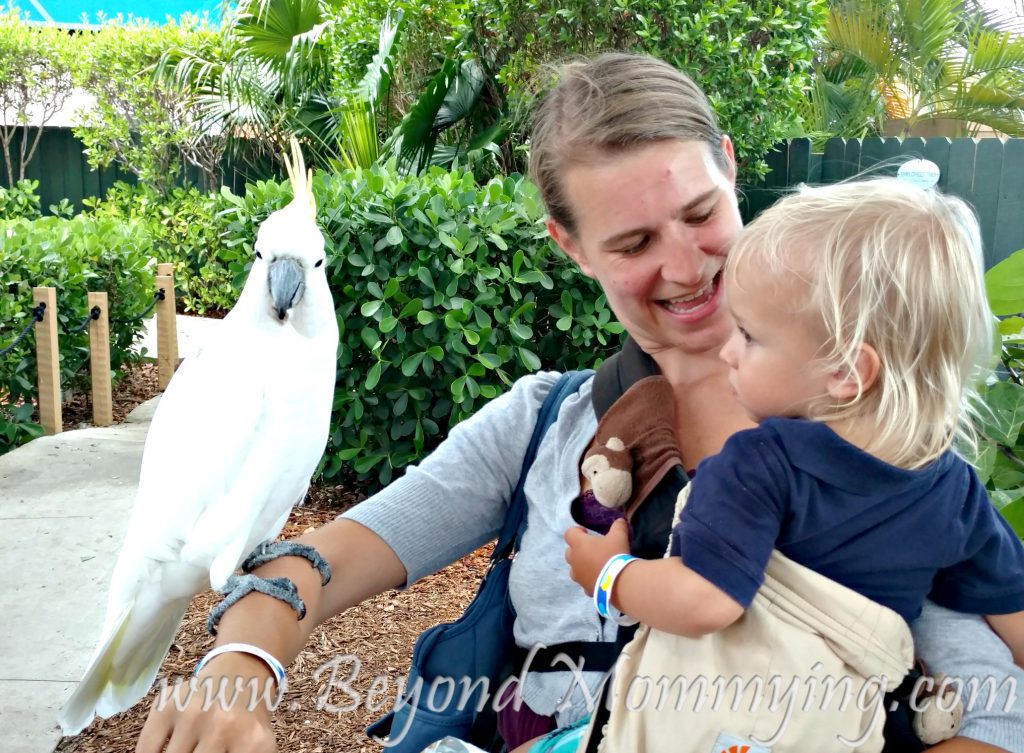 Did you know when a bird raises their crest they're either trying to be intimidating or say "look how handsome I am"?
Feed Sea Turtles
The sea turtles at Miami Seaquarium are rescued animals that were injured in the wild. They now have their own happy place to live, complete with their own island a friendly deer named liberty.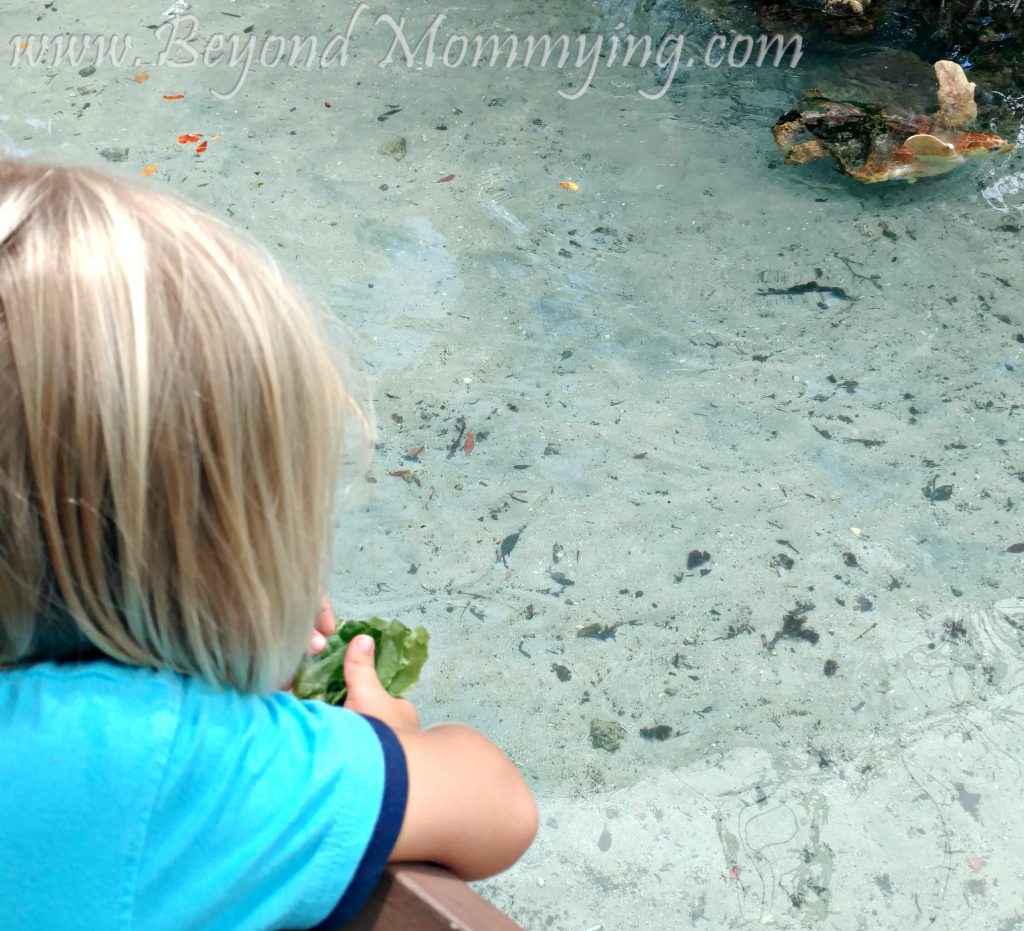 Did you know there are 5 species of Florida sea turtles that are endangered?
Get a Kiss from a Sea Lion
The seal and sea lion show at Miami Seaquarium is so much fun! Entertaining and funny, the animals are right in the middle of the action with their amazing tricks and skills. And after the show, you can hang around and get a picture with the sea lions! If you're lucky, one might just give you a kiss. And like the dolphins, you can also upgrade your experience and swim with the seals or be a trainer for a day.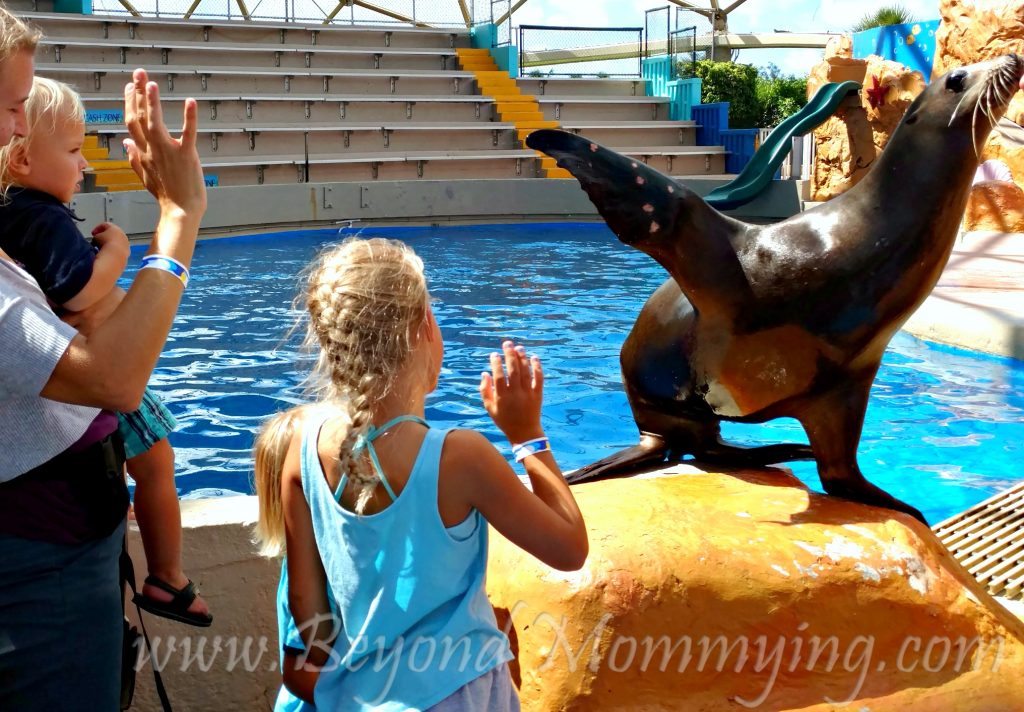 Did you know seals molt their fur and can grow completely new patterns every year?
Get Splashed by a Stingray
When Honeybun was only two, we took her to the small aquarium south of Dublin. She was so excited to see the stingrays but when they got excited to see her and starting splashing at the edge, she wasn't so happy. She spent the next few months adorably telling us "me no like stingrays…they SPLASH around!"
Well, it turns out she's still not a big fan of their wild antics but the other kids and I really enjoyed petting the stingrays at Miami Seaquarium and feeding them fish (our choice of heads or tails!) which they sucked right out of our hands.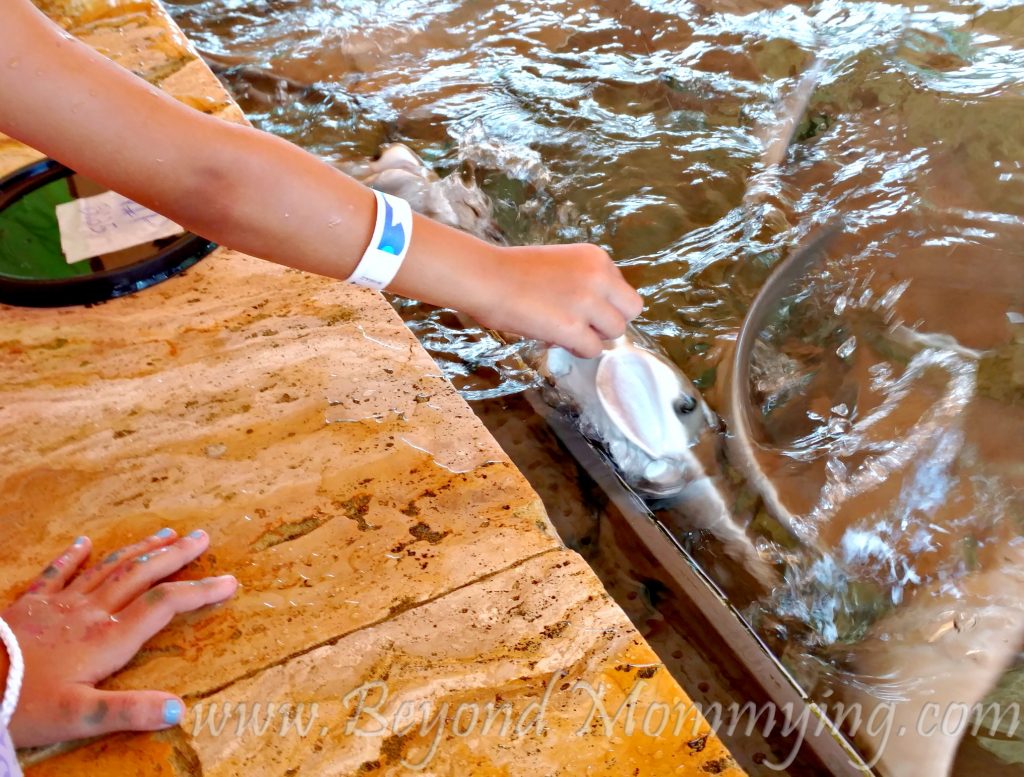 Did you know that sting rays have seven senses and have electrical sensors around their mouths called ampullae of Lorenzini which helps them to find small prey?
Touch a Tortoise
My kids instantly zoned in on the small tortoise exhibit while we went about our tour and our amazing guide stopped to let the kids hold one of the tortoises.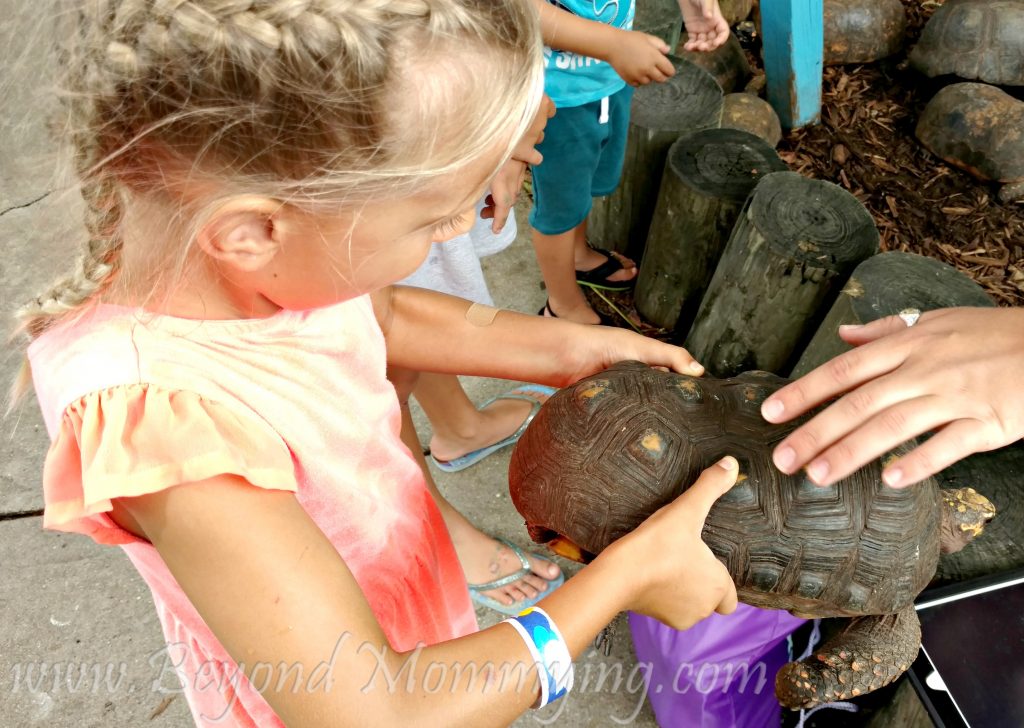 Did you know the differences between tortoises and turtles include tortoises live on land and turtles in water and that tortoises can pull into their shells but turtles can't?
Explore the Reef
We just experienced the reef from the outside, but when visiting the Miami Seaquarium, it's possible to don a dive helmet and explore the reef from the inside rather than just through the windows.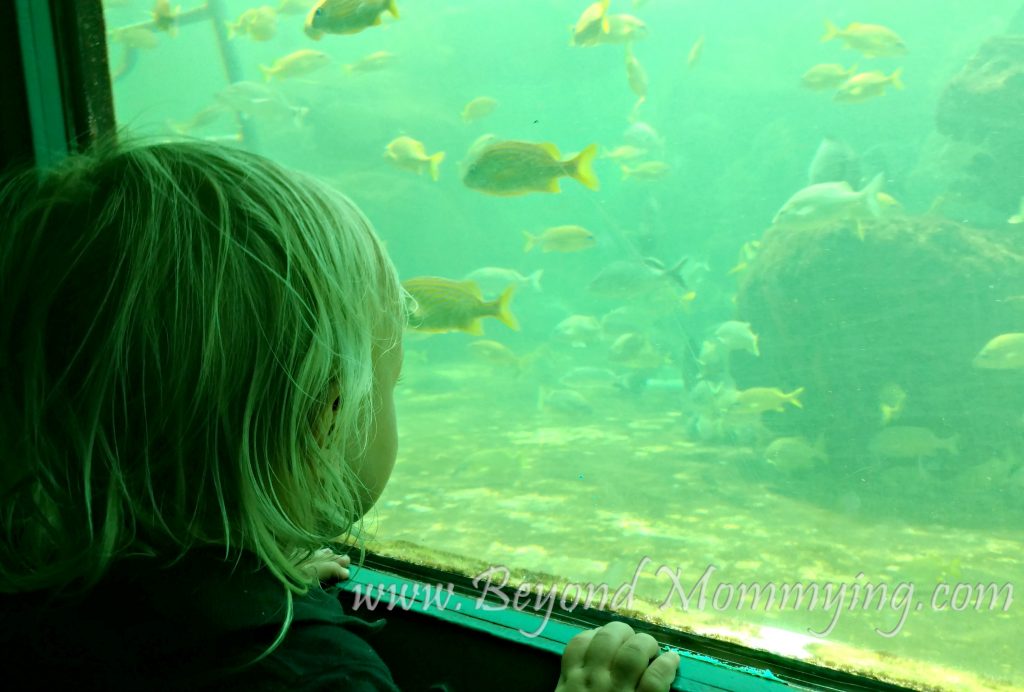 Did you know the Main Reef Aquarium at Miami Seaquarium holds 750,000 gallons of saltwater?
See a Show
Miami Seaquarium offers four different animal shows throughout the day in their large stadiums. The various shows feature dolphins, orcas, seals and sea lions.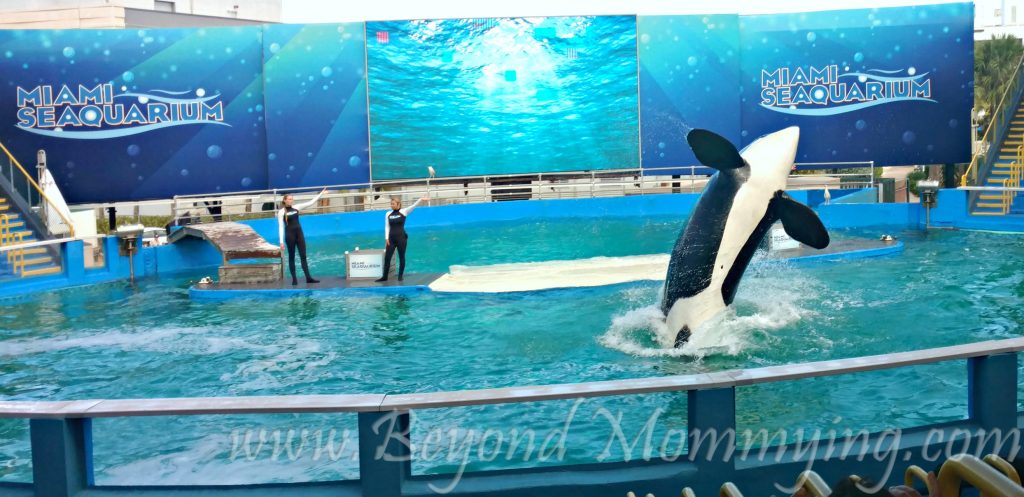 Did you know orcas (killer whales) are actually a member of the dolphin family?
Learn Something
Miami Seaquarium not only offers school field trips, camps and other group programs, but they also offer regular mommy and me and homeschool classes as well! Check out the full schedule of classes and programs at MiamiSeaquarium.com.