I kind of like bacon. A lot. And while I don't make it often, when I do it, we seem to have it a few different times in a short period leaving a lot of bacon grease behind.
Which gave me the idea for bacon donuts. And nothing goes better with bacon (and breakfast) than maple syrup. And so, our Maple Bacon Donuts were born.
Note: This post contains affiliate links and images meaning if you click any product link and make a purchase, Beyond Mommying may receive a small commission which is used for the upkeep of the website; however, it will not affect your purchasing experience in any way. Read more about our use of affiliate links.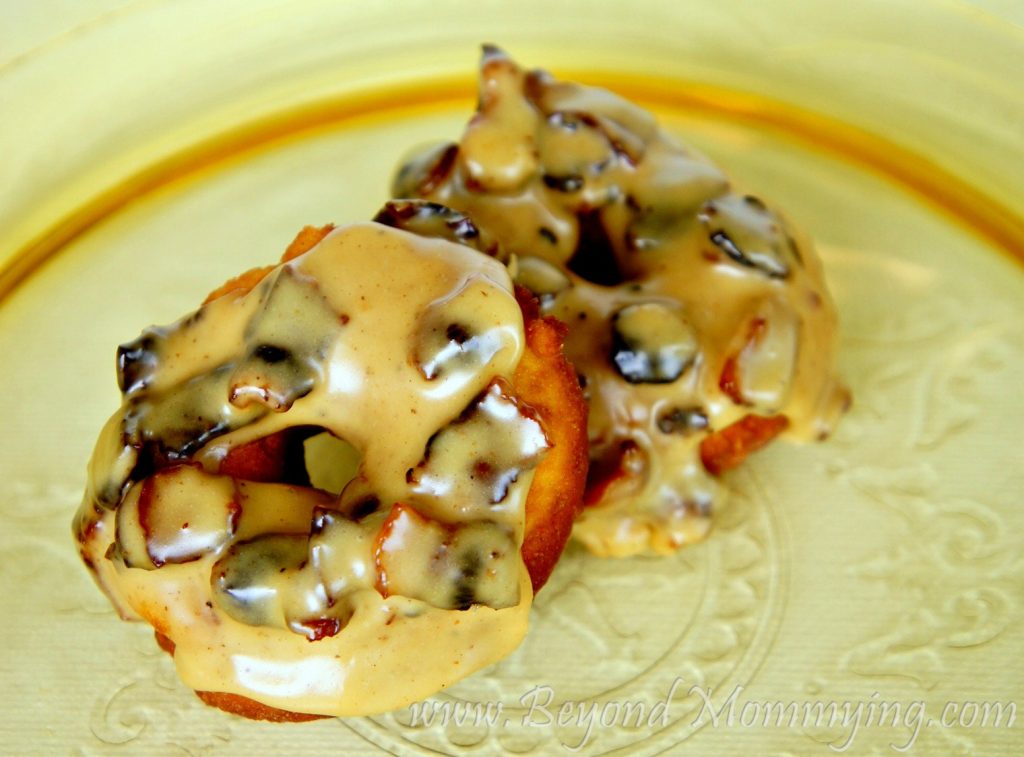 Maple Bacon Donut Recipe
Tools needed to make Maple Bacon Donuts:
(affiliate links)
Maple Bacon Donut ingredients:
2 3/4 cup Flour (plus extra for kneading and dusting)
2 1/4 teaspoons Instant Yeast
3 tablespoons Sugar
1/2 teaspoon Salt
1 cup Milk
1 teaspoon vanilla extract
3 Egg Yolks
4 tablespoons Butter
1/2 pound Bacon
Vegetable Oil
1/2 cup Maple Syrup
1/2 cup Powdered Sugar
How to make Maple Bacon Donuts:
Combine 1 cup four with the yeast, sugar and salt (in the stand mixer bowl if using one).
Add the milk (warmed to about 110 degrees), vanilla and egg yolks and mix until smooth.
Slowly add the remaining flour and room-temperature butter, mix until combined.
Continue mixing on medium speed until dough is smooth and soft, though it will still be sticky.
Turn the dough out onto a lightly floured surface and hand knead incorporating more flour until dry enough to roll out to about 1/2 inch thick.
Cut the donuts and move to a floured baking sheet. Keep the centers for fried donut holes or combine with scraps and re-flatten to cut additional donuts. Continue to re-roll and cut donuts until there is not enough dough remaining (retain small scraps for testing oil)
Place the donuts in a warm place and let rise for about a half hour (you can cover with plastic wrap or a clean tea towel to help expedite the rising) until the donuts have approximately doubled in size.
While the donuts rise, cut the bacon into small pieces and pan fry in the heavy skillet until cooked through.
Remove the bacon to a small saucepan, leaving the bacon grease in the skillet.
Add the maple syrup to the bacon in the small saucepan and cook on medium heat until the syrup begins to thicken then remove from heat and set aside.
Add enough vegetable oil to the bacon fat to the heavy skillet to about 1/2″ deep.
When donuts are nearly doubled in size, heat the oil over medium heat until lines are visible on the surface. Test a piece of scrap dough, if the oil sizzles slightly and the dough begins to turn golden, the oil is hot enough. (NOTE: the oil should not splatter if it does, it's too hot. Keep kids away from the stove while putting anything in the oil as it could splash and cause painful burns–take this mommy's word for it!)
Carefully place donuts one at a time in the hot oil. Using the chopsticks, flip each donut once the first side is golden brown. (I found I could fit 8 donuts in my pan and the first one was ready to flip soon after I put the 8th one in).
After browning the second side, remove to a paper towel covered plate and let cool.
When all donuts are cooked and cooled, add the powdered sugar to the bacon/syrup mixture and stir until smooth. Add additional sugar as needed until the icing is thick enough to stick to the spoon but still runs off slowly. If you over thicken it, add a tiny amount of water, milk or maple syrup at a time until the right consistency is reached.

Top the donuts with the maple bacon icing and enjoy!
The icing will harden as it sits and donuts will last a few days if covered. I'm not going to lie and say making the donuts was easy, but they certainly weren't hard. More than anything, they were just time-consuming but my kids were able to help with pretty much every part, aside from the frying.
These are sure to become a family staple and I bet in not too long, my girls will be making these delicious maple bacon donuts all by themselves!