2nd quarter 2017 was easily the best yet for Beyond Mommying. There were a lot of factors at play that made the quarter so successful and while there is still plenty of room to grow, I definitely can't complain about the progress I've seen.
Here are the highlights from Quarter 2, 2017:
My 2nd highest earnings ever (would have been my highest had I received two outstanding payments I've been waiting for, one of which just came in as I was typing this up!)
May 2017 was my most pageviews ever, exceeding every goal I've ever set.
My Facebook page likes have grown consistently, especially over the past few weeks.
My Pinterest followers grew by 8% while my Twitter, Instagram and Google+ saw minimal growth.
But with all that, I've noticed an interesting trend over time: my referrals have not drastically increased. I've had peaks from things being shared on Facebook or repinned on Pinterest which has definitely helped my pageviews, but I'm beginning to realize that's not what's driving consistent traffic to Beyond Mommying.
Take Facebook for example. When I began Beyond Mommying in January 2013, Facebook was the only social media platform I was using (social media has never been my thing!) But interestingly, aside from a few peaks, my average Facebook referrals since December 2013 (when I installed Google Analytics) has remained consistent. In fact, I have many months now with less referrals than I had 3 years ago!

Pinterest has been a similar story. while I initially had a jump in traffic when I actually began using it in January of 2016 and I saw quick growth, the recent algorithm change greatly decreased my Pinterest referrals and life on Pinterest right now feels like a crap shoot: I throw a bunch of stuff out there and hope something good happens!

And while that is all very frustrating, there is a golden lining: my total pageviews (darker blue on graph below) have consistently been increasing! There are definitely peaks (often corresponding to Facebook shares or Pinterest repins) and I'm seeing more extreme ups and downs that I experienced in the early days but overall, my monthly pageviews are consistently growing.

So, what's the deal? How am I seeing consistent growth when Facebook and Pinterest are no longer playing nice? I have a pretty good following of people coming to Beyond Mommying directly and consistently which has grown over time, which is awesome.
But there is one other little thing that is making a big difference:

Organic search traffic has become Beyond Mommying's number 1 source of traffic, and last quarter my search referrals were almost double all of my social media referrals combined!
Honestly, I'm not sure what I've done to get Google to like me so much, but I'll gladly take the increased traffic it's been getting me over time! At some point I installed and starting using the Yoast SEO plugin which certainly hasn't hurt. And while I get virtually no traffic from Google+ itself (37 total referrals in the past 3 1/2 years!), I read something that sharing your links on Google+ pleases the Google gods so when I began using Buffer more consistently last year to schedule my Twitter and Pinterest, I started scheduling Google+ posts as well, and it certainly hasn't hurt anything.
A few weeks ago, a very simple question was posed in a lovely blogger group I'm part of: How do you know when to throw in the towel? It's something I've struggled with more and more throughout my journey with Beyond Mommying. But my response to the group?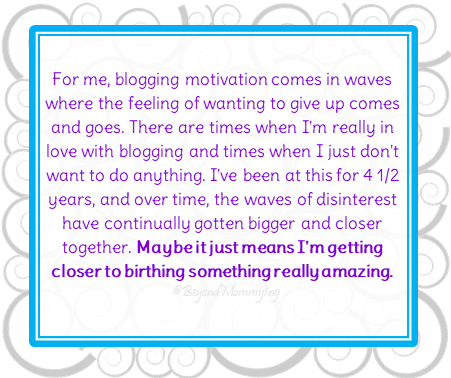 So, I guess the moral of the story is: I'm just going to keep doing what I'm doing because even though growth has been slow, it's also been steady and I really don't have anything to complain about.