We all know that daddies can play an almost super hero role in the lives of their children. Daddies get all the best hugs when they get home from work; are often the preferred parent to sit next to, cuddle with and get bedtime kisses from; and will say yes to anything (or so the kids think.)
But have you ever asked your kids what they actually think of their daddy? What do they know about the man who provided half their genes or are the other half of the parenting team?
This Father's Day, in addition to the quick and easy, kid made photo collage we made, I decided to get the answers from my kids to all those little questions. My older girls helped me come up with a list of questions about every daddy from what daddy does to what daddy's favorite things are and those special feelings only a daddy can provide.
Some of the questions are serious and some might get a little silly but that's the beauty of asking kids questions: you never know what response you're going to get! It would be fun to start a tradition of having your kids answer the simple questions each year to see how their perspective, appreciation and love for their daddy changes as they grow.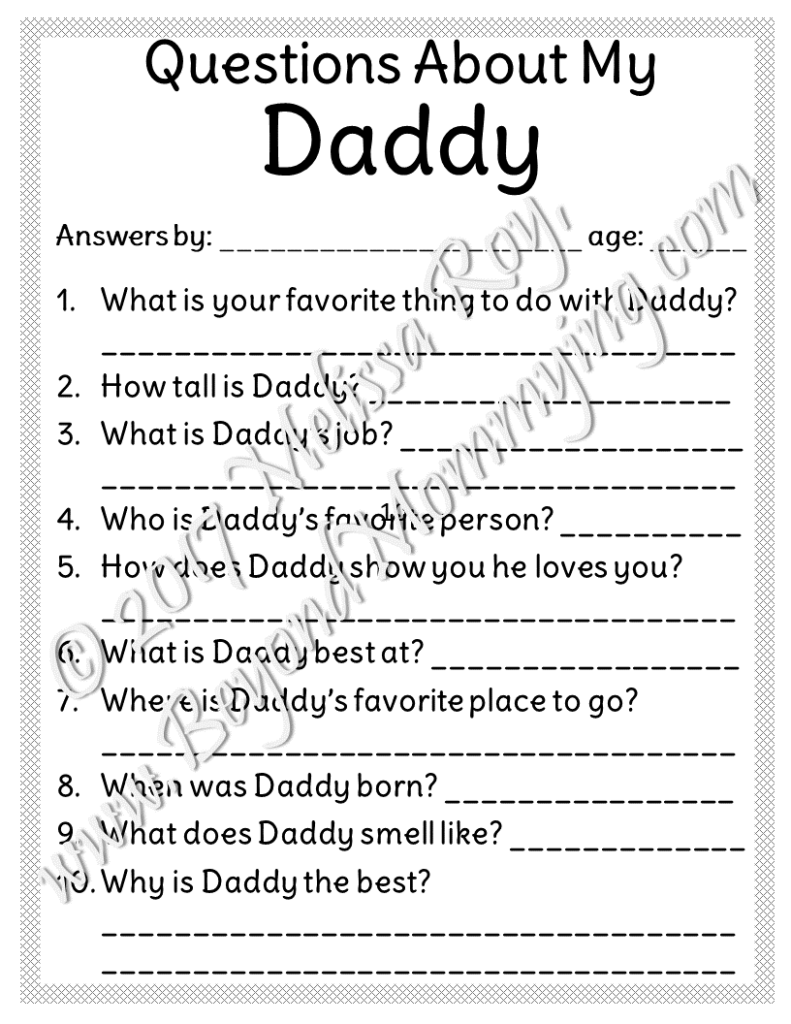 Grab your free printable Questions About My Daddy sheet:
(Read our Privacy Policy and how Beyond Mommying uses your e-mail address, I promise your e-mail will never be shared!)
Please provide your name and email address for your free download.
And make sure you're following the Beyond Mommying Facebook page (see tips for how to not miss a thing from your favorite Facebook Pages like Beyond Mommying) and stop by on Father's Day this Sunday to see some of my kids' answers (we don't want to ruin it for Daddy before then!)