While the rest of the country is experiencing the joys of summer (no school, warm temperatures, free time), here in Florida, we're officially in the rainy season. And this year, Mother Nature didn't take any time to bring it on. We received over 4 inches of rain yesterday and already almost an inch today (it's not even 8 o'clock in the morning!) Our pool has overflowed, we have rivers running through our yard and getting anywhere with the horrible Florida drivers is a nightmare!
Note: This post contains affiliate links and images meaning if you click any product link and make a purchase, Beyond Mommying may receive a small commission which is used for the upkeep of the website; however, it will not affect your purchasing experience in any way. Read more about our use of affiliate links.
So what's a mommy to do with 4 kids when stuck inside for days on end? 
Here's a few rainy day activities we've been using to pass the time and getting through the rainy days (that don't involve screen time!):
Dance in the Rain
Dancing in the rain is one of my favorite rainy day activities. I vividly remember dancing in the summer rain with my sister when we were little and it's a tradition I've passed down to my own kids. Of course, you have to be sure it's safe to be outside and we only dance in the rain when there is absolutely no sign of lightning or thunder and come inside immediately if we see or hear anything but prancing around in the rain, splashing in the puddles and feeling the cool drops is tons of fun for everyone (just have the towels handy!)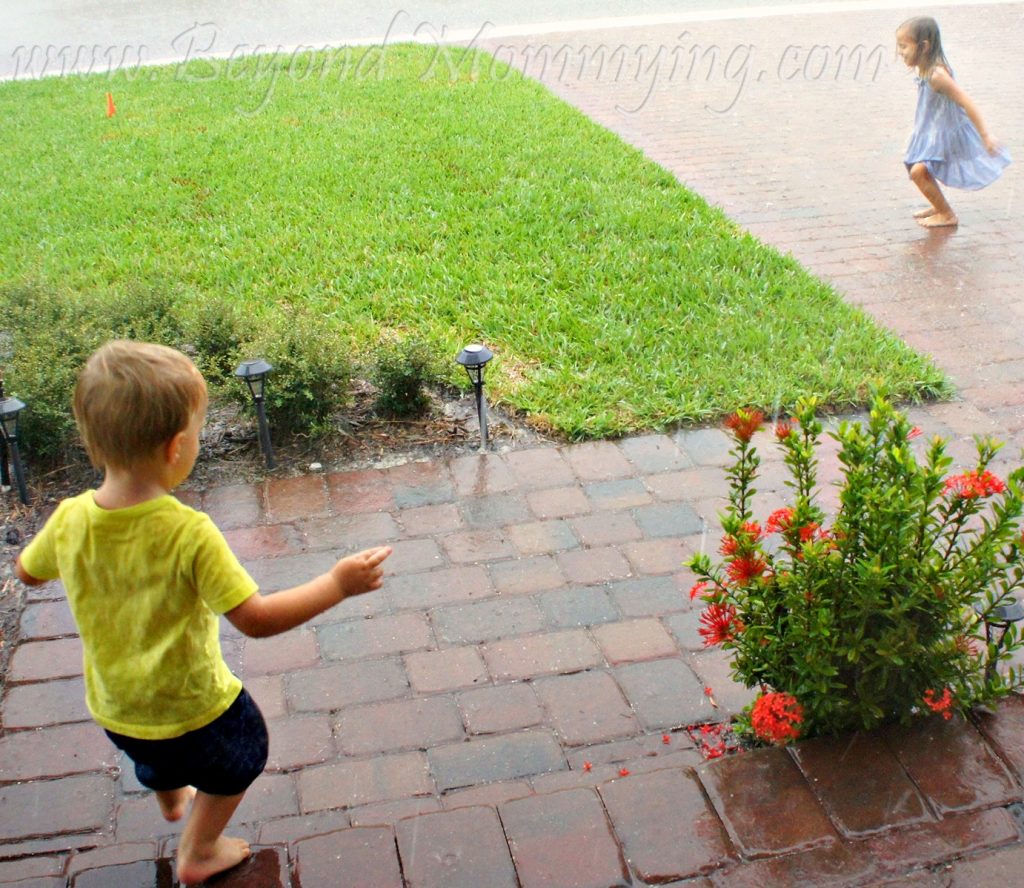 Garage Play
If you can't go outside but have a garage, move the cars out and let the kids ride bikes, roller skate or do other active play in the garage. It keeps them dry but moving and my kids love the silliness of it.
Puzzles
Nothing uses time up like sitting down and working on a puzzle. My kids and half-and-half on loving vs. hating puzzles but even my haters will sit down and work with me and my puzzle lovers for a short time.


Art Projects
I'm not a big fan of art projects with the kids because of the mess and clean up that accompany them but it one of my favorite rainy day activities because I've got nothing but free time to help my kids make a huge mess and then teach them how to clean up!


Science
When it comes to homeschooling, science is by far my weak point. Similar to art projects, I don't always have a lot of time and patience to do science experiments with the kids. But science projects are another perfect rainy day activity because you've got nothing but time to really delve deep into a science concept or project.


Play Dough
My kids could play with play dough all day long and rainy days are the perfect time to let them. There are so many different options for playing with play dough and ways to extend their play. If you don't have any or want to make their play dough play last longer, you can easily make your own with the kids help using this simple homemade play dough recipe.


Water Play
What's a better rainy day activity than water play? You can do it inside, outside in the rain, or under a covered patio outside. The possibilities for water play are endless and water has the power to keep kids of all ages entranced for much longer than their attention spans usually allow.


Sensory Bins
If water play isn't for you when the sun isn't shining, then put your water table or other large container to use by filling it with other sensory items for kids to explore. Check out my extensive list of sensory play ideas!


What are some of your favorite rainy day activities?