This shop has been compensated by Collective Bias, Inc. and its advertiser. All opinions are mine alone. #BeforeDifferinJourney #CollectiveBias
Sometime around my 30th birthday, maybe even on the day, something happened. After years of trouble free skin, I started breaking out. I blamed it on stress. On breastfeeding. On age.
It was all new to me. After a lifetime of wash and go skincare and even surviving my teenage years without more than a blemish here and there, I was completely unprepared for caring for my now problematic skin.
Three years later, and I still haven't really gotten it under control. I finally figured out the breakouts I'm suffering from on my chin are acne, and I've learned to somewhat manage it, but I can't remember the last time my face was blemish free. Or even remotely clear.
I've tried different face washes, scrubs, topical treatments, and diet changes. Some have helped, and some have made it worse. Yet I haven't yet found the ultimate solution, and the only thing that makes any bit of difference is having a consistent bedtime face care routine, something I've never had to do before in my life.
But with our now crazy schedule of out of town gymnastics meets, traveling around visiting friends and flying to far off places to see family, keeping up with a bedtime routine on the road is a challenge. And more often than not, our travels are keeping us traveling late into the night, arriving at our destination with a pile full of sleepy and grumpy kids and little desire to do even the bare necessity for myself before hitting the pillow.
The easiest way I've found to combat the desire to just do nothing before bed is to make sure I have everything I need for my nighttime routine handy in one place, so I sewed myself a grab and go satchel that holds just the items for my nighttime routine and fits neatly in my larger toiletries bag when traveling. This way, when we reach our destination, after tucking the kids into bed, I simply unroll my little satchel, and all my bedtime necessities I need to quickly do my nighttime routine are right there, including my new Differin® Gel for my skincare needs.
How to make a bedtime essentials travel satchel:
You'll need:
1 piece of PUL fabric, cut to approximately 21 by 24 inches
PUL is the waterproof fabric used for cloth diapers and can be found in most fabric stores in a section specifically for cloth diapering. It can be bought by the yard or some stores carry it in 3-packs in which the pieces are already cut to the 21″ x 24″ size.
Coordinating polyester thread
Other types of thread will work but anything that contains cotton will wick moisture through if something within the satchel happens to break or leak will traveling.
Coordinating grosgrain ribbon, about 1 yard
Grosgrain ribbon stays tied better than satin ribbon because the ridges catch on one another.
How to sew the bedtime necessities travel satchel:
1. Sew a hem around the edge of the PUL fabric using a zigzag stitch.
The edges of PUL fabric will not fray but hemming the edge adds a bit of stability and refinement to the satchel. You need only to fold the fabric over about 1/2 inch; there is no need to fold the raw edges inside unless you'd prefer to. Clip each corner on the diagonal to help the corner lay flat when hemming the perimeter.
2. Mark your pockets.
With the white/plastic side of the fabric facing up, fold the bottom of the square up about 4 1/2 inches and mark the middle by folding in half the other way. Pin the ribbon to the printed side at the middle and pin the ribbon ends up and out of the way. Mark the seams for each pocket about 3″ apart (I used the pattern on my fabric to help evenly space the pockets).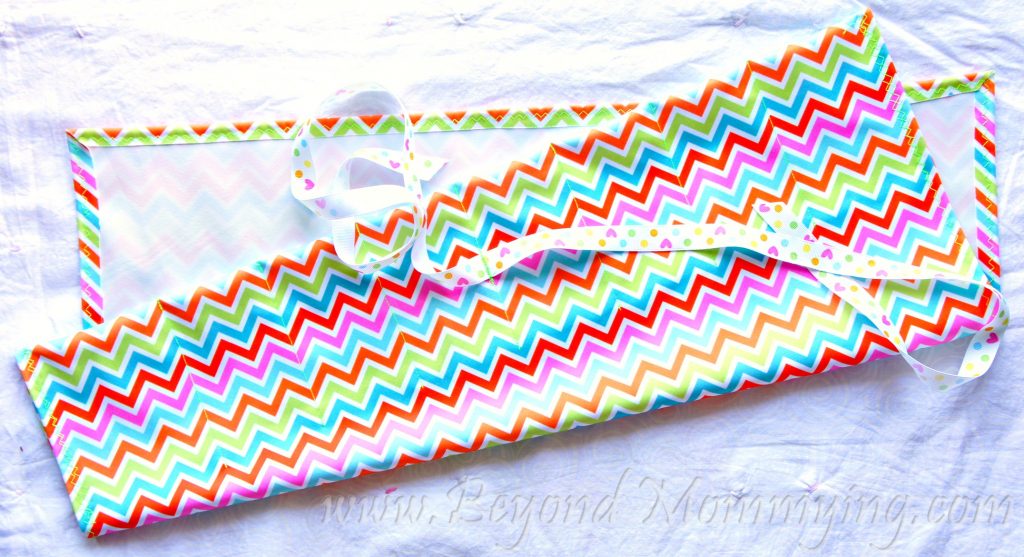 3. Sew the pockets.
Sew each edge with another zigzag stitch and each pocket line with a straight stitch. Reinforce the seam over the ribbon by sewing multiple lines. Cut the ends of the ribbons at an angle, and quickly run through a flame to seal the edges.
Fill the bedtime necessities travel satchel
Use the pockets to hold your bedtime necessities like toothbrush and toothpaste, contact lens case and solution, hairbrush, medicines or  daily vitamins, plus face wash and other facial products you use before bed like Differin® Gel. Fold the top flap down and fold the satchel in half then roll up and tie the ribbons around to secure.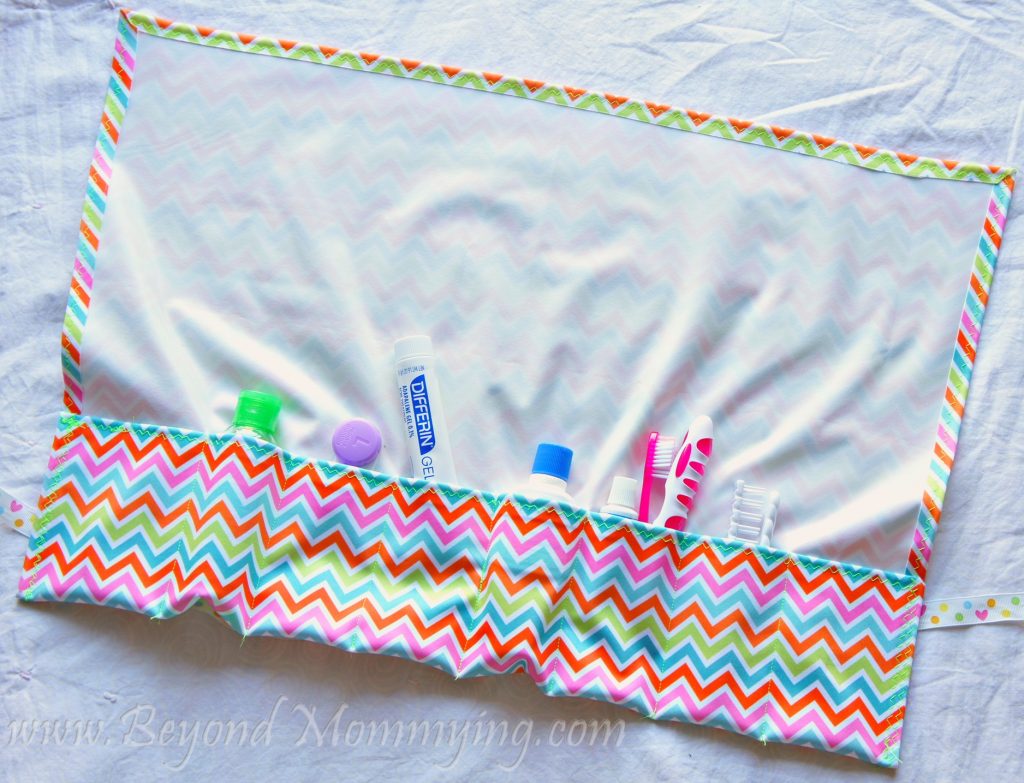 Pack the bedtime necessities travel satchel
Throw the satchel directly in your suitcase or in with your other toiletries so it's ready to grab when you get to your final destination.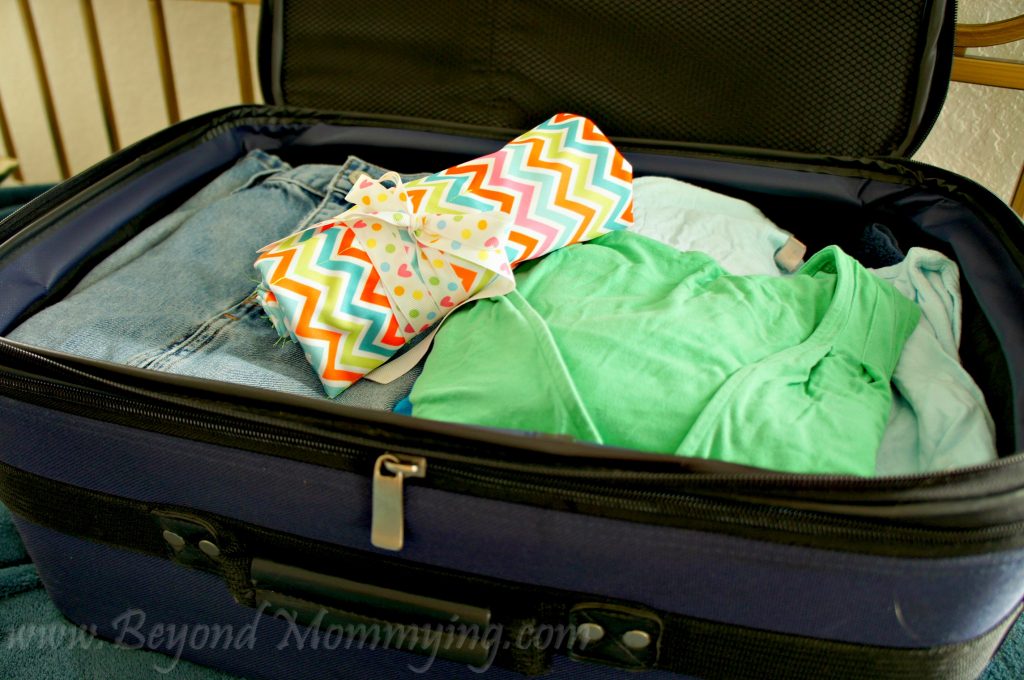 Today is Day 1 of an 8 week journey using Differin® Gel as part of my nighttime routine to help treat my acne. It is the first and only prescription strength retinoid (Adapalene) available over the counter and is recommended for mild to moderate acne. It clears breakouts deep down in pores where they start, preventing breakouts from occurring and as a result helps to restore skin's texture and tone. Differin® Gel should be used continuously even after the skin clears to prevent future breakouts.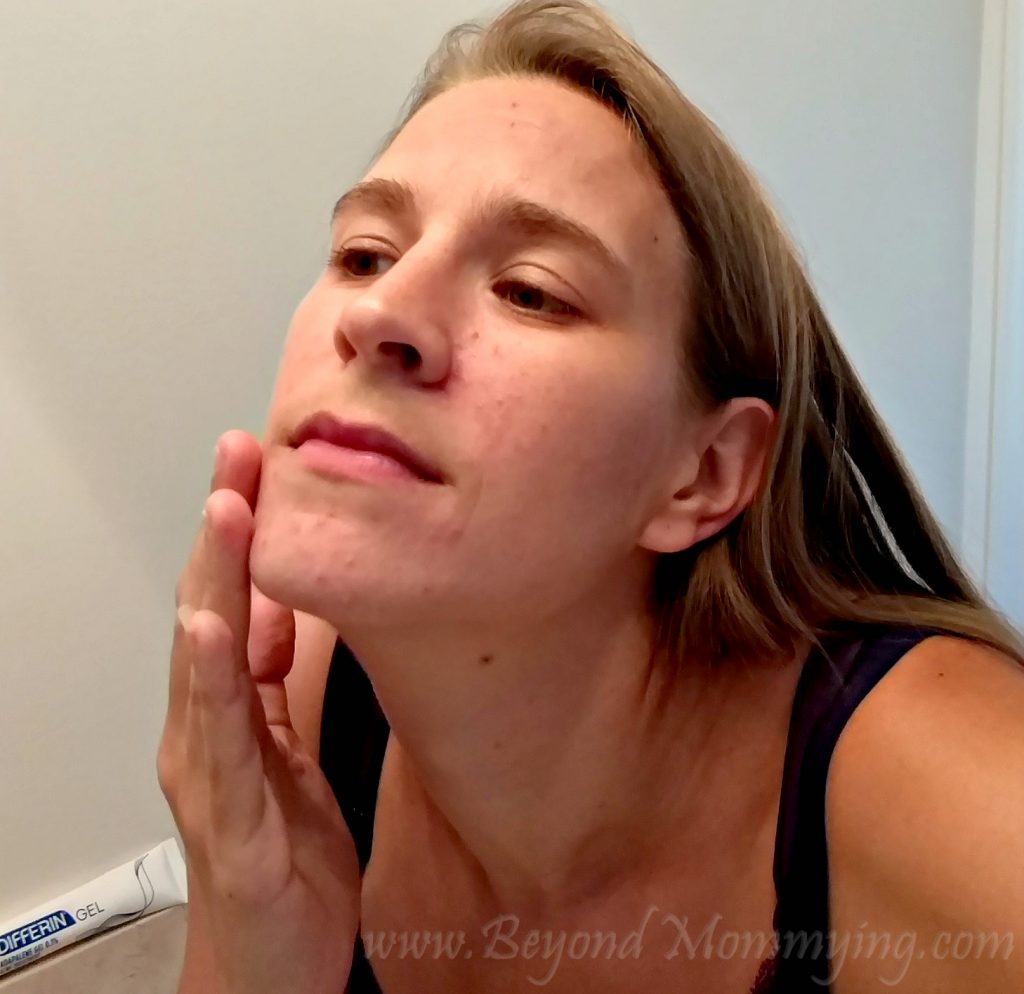 A long-loved and proven acne product, Differin® Gel is the newest advancement in the OTC acne category in over 30 years and is used differently than other available OTC acne spot treatments. Please use caution when using Differin® Gel with more than one acne treatment or glycolic acid product because this could lead to irritation.
Apply a thin layer once a day, every day, over the entire face in conjunction with a good cleansing and moisturizing routine such as Cetaphil® Gentle Skin Cleanser and Cetaphil® Daily Facial Moisturizer SPF 15.
For more Differin® inspiration, check out the social hub here.
NEW! Differin® Gel, Clear Acne with the Power of Rx! is available at your local Target.
This product is dermatologist developed and tested. Please call 1-866-735-4137 for any questions you may have concerning the product. However, should you experience any problems while using the product, please discontinue use and consult your healthcare provider.