I've never really liked the term "stay-at-home mom" because that's not what I do. A more accurate term would be "run-around-like-crazy-getting-my-kids-to-all-the-places mom," but "RALCGMKTATPM" just doesn't roll off the tongue as nicely.
And while I feel like term "homemaker" is outdated and I cringe every time that's the box I have to click on a form or survey, I've come to terms with the fact that my role in life right now is as a home maker. My daily responsibilities are to keep my children healthy, our lives filled with joy and our house livable and if that's not the definition of making a "home," I don't know what is.
Note: This post contains affiliate links and images meaning if you click any product link and make a purchase, Beyond Mommying may receive a small commission which is used for the upkeep of the website; however, it will not affect your purchasing experience in any way. Read more about our use of affiliate links.
But sometimes being the one who keeps it all together is overwhelmingly stressful and at times unmanageable. I often wish I had all the answers (plus a few more of me, or at the very least, 6 more hands.) The reality is, though, we're all just muddling through this life the best we can and despite what the internet says, no one is perfect.
The good news is, though, there is help out there. There are people who have solved some of everyday life's puzzles and troubles and right now you can get some of those answers and solutions through the Ultimate Homemaking Bundle.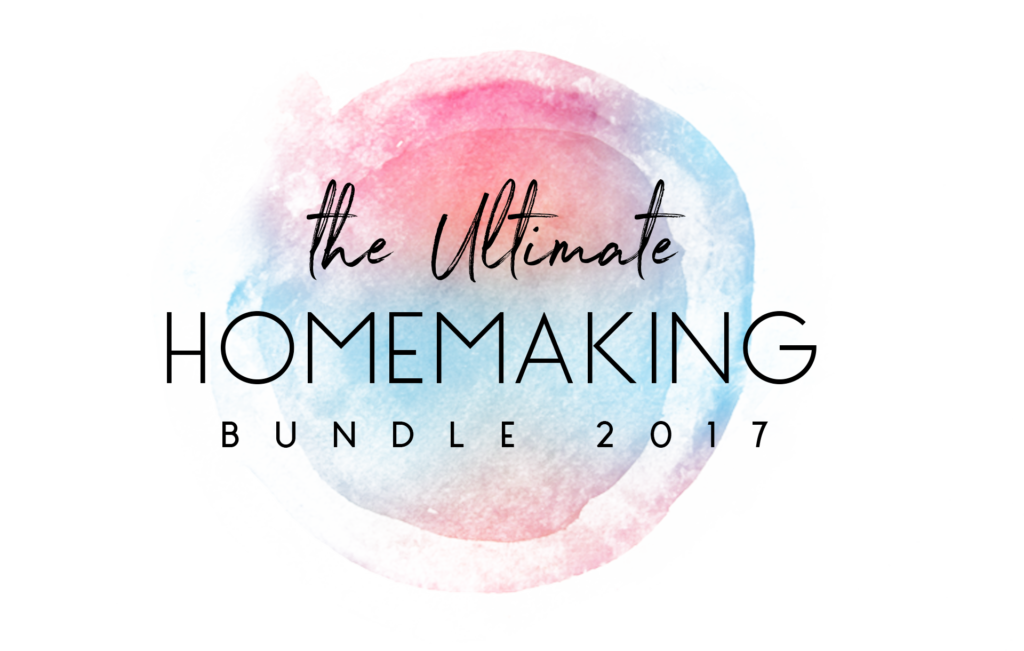 I first learned about Ultimate Bundles when I purchased their Genius Blogger's Toolkit last month. Packed full of resources for bloggers, I'm still not even halfway through the included ebooks and have only begun one of the ecourses because these bundles are so packed full of great information and resources it's ridiculous!
The Ultimate Homemaking Bundle is no different, packed with over $2000 worth of products for the busy mommy from some really awesome bloggers and writers.
Some of the highlights included in the bundle I'm most excited about include:
The Spaghetti Shots: How to Take Better Photos of Your Kids During Everyday Life by Courtney Westlake
Thrifty & Thriving: More Life for Less Money by Victoria Huizinga
Feeding Toddlers: A Pediatrician's Guide to Happy and Healthy Mealtimes by Dr. Orlena Kerek
30 Days to a Simpler Life eCourse by Brian Gardner
Making Big Life Changes Together: Pursuing Your Dreams as a Couple by Haley Stewart
Everyday Hope: Real Encouragement for Worn & Weary Moms by Kayse Pratt
The Mom Reality: What Parenting Books Never Tell You by Erin Myers
The Temper Toolkit: How to Take Control of Your Temper Before You Lose it! by Lisa-Jo Baker
14 Days to Opening Your Front Door to Guests by Dana White
Clutterfree with Kids: Change Your Thinking. Discover New Habits. Free Your Home. by Joshua Becker
Delicious Dinners in Under an Hour by Mique Provost
Happy You, Happy Family: Find Your Recipe for Happiness in the Chaos of Parenting Life by Kelly Holmes
Mama's Best Self: Where Frazzled Mama's Find Peace by Amanda Rueter
And that is just the tip of the Ultimate Homemaking Bundle iceberg, in addition to more than 100 resources for moms, you also get access to other exclusive bonuses like 1 month of Kiwi Crate, Bookaroo, and Detox Project Box.
And you get it all for under $30!

So you're probably wondering: what's the catch? There has to be a catch, right? And the truth is, there isn't one. It really is as good as it sounds. (Other than the fact that it's only available through May 1!)
I hope by now you know I'm only going to share products and services that I really love and believe in. I'm not just out to sell you things and make money off of you. Yes, as an Ultimate Bundles affiliate, I do earn a small commission if you purchase the bundle (but every penny goes towards running Beyond Mommying, I've yet to pocket a single penny above what I've spent on running Beyond Mommying!) BUT that's not why I'm sharing it with you.
I'm sharing the Ultimate Homemaking Bundle with you because I believe these resources have the potential to change the life of every mommy I know, even if it's just through making one small change or finding some much needed encouragement.
So why not take a peek at what this amazing bundle has to offer, what do you have to lose? At the very least, it will distract you from the craziness of mommying for a few minutes!