The year didn't start out so great for me and the blog. An unexpected drop of my laptop early in the year forced me to make a decision when I lost a ton of files: continue blogging and work my booty off to recoup the cost of data recovery or throw in the towel. If you haven't figured it out, I chose the former. I thought the trauma and expense would be just the fire I needed under my butt to make 2017 the year of blogging bliss.
But I've learned something over the past few months of this journey: I'm really good at setting goals for myself. I'm also really good at forgetting about them as I meander through this time warp that is 24/7 parenting.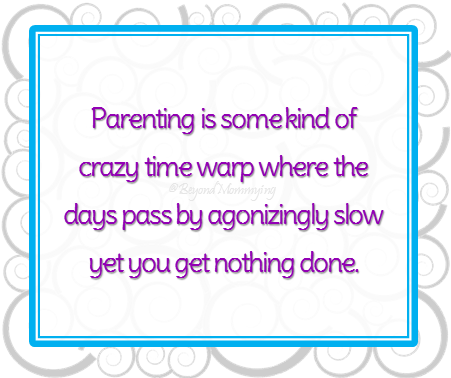 But that certainly doesn't mean I've achieved nothing, I've still been working as much and as hard as I can. I just haven't kept up with my intended goals (like last month when I vowed to take care of one blog post draft a day but didn't though I did manage to cut down my total drafts by almost  a third.)
So, here's how the 1st quarter of 2017 went for Beyond Mommying:
My overall pageviews for the quarter only went up 2% and honestly, I'm thankful and a little bit surprised by that. Due to changes in Pinterest and a severe drop in traffic from there (down by almost half of what it was the second half of 2016). February was my worst month since last May but a stellar start to January thanks to a promoted sponsored post I had over the new year helped to push my growth up and I've slowly been recovering and increasing my pageviews since its lowest point at the end of January.
My overall social following went up 5% with the biggest gains on Twitter (with an 8% increase) and lowest on google+ and Facebook.
Truthfully, I've pretty much given up on Facebook promotion. I love Facebook and could spend every second of every day putzing around there but I just don't get the returns from it. In fact, my Facebook referrals have basically remained stagnant over the past three years despite my overall pageviews continually going up. And while I have had spikes in my Facebook referrals which obviously result in spikes in my pageviews, I can't guarantee those spike and even at the beginning of 2016 when I was following all the "rules" of posting various types of content to Facebook multiple times a day, I didn't see a real change in traffic to my blog (though I will admit my Facebook reach was better.)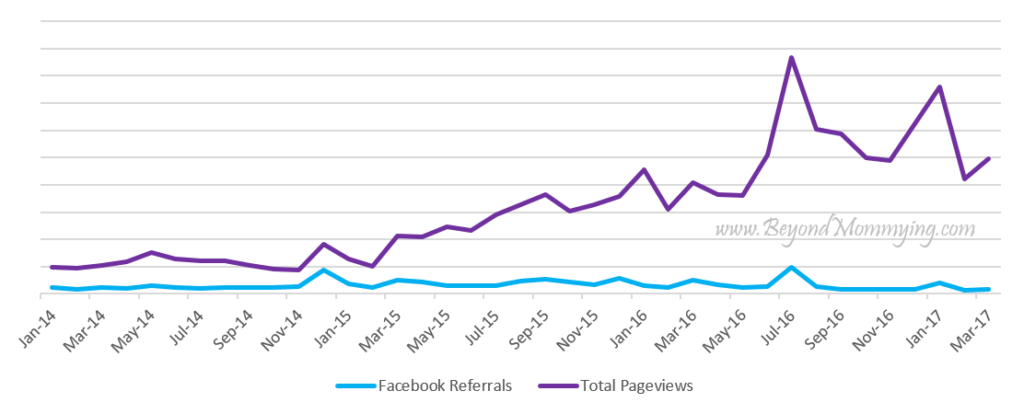 Instead, I've started posting more to google+ as I've heard rumors that posting your content there might help it rank better on google searches. I signed up for a paid Buffer account last September and have been using it to schedule my Tweets and Pins so I figured why not schedule some google+ content at the same time and see what happens. I haven't seen an increased referral traffic from google+ since starting a little over a month ago and it's too early to report any major changes in organic search traffic but maybe I'll have some awesome news to share at my next quarterly check in!
One place I have been keeping up with my goals is in sending out a regular newsletter. Every other Monday, I send out an e-mail newsletter with a little insight on what's been happening in life (which doesn't get published anywhere else so if you don't want to miss my life updates, be sure to sign up for the newsletter!) My e-mail list grew 18% this quarter and topped 500 subscribers which, I think, is pretty awesome for a blog the size of Beyond Mommying (AKA: small!) I've been using MailChimp but have gotten a suggestion to change e-mail providers which I'm considering in order to hopefully increase my open rate which this year has averaged under 15% (ouch!–if you think you're on the list but haven't seen anything from Beyond Mommying recently, please check your spam folder next Monday and add newsletter@beyondmommying.com to your address book so you receive future e-mails.)
Last year at this time, after filing our taxes, I was determined to be more financially savvy with the blog for 2016. I met that goal and blog taxes for 2016 weren't nearly as scary (my monetary compensation was much bigger than my free products received, which was the opposite for 2015). My earnings were almost double what I earned last quarter and while I accepted more free products, it was things I would have bought anyways (like the WriteShop program we're using) or experiences we wouldn't be able to have otherwise (like going to iFly) so it was worth taking the free products. And with my pending payments, I'm more than halfway to paying for the data recovery expenses (did I mention it was expensive?!)
So, where do I go from here?
I do have a few goals moving forward (maybe by publicly publishing them I'll hold myself more accountable to them!):
Get more guest posts published. I have 16 blog post drafts that I've written for other site to publish that need to find a home.
Continue writing regularly. I got a little lazy with the writing towards the end of 2016. I'd lost my motivation and wasn't publishing new content as often as previously  but I've recently had a productivity resurgence and I hope to continue on that wave! (I published almost twice as many posts in March as I was averaging at the end of 2016, yikes!)
Increase my affiliate earnings. A mommy's got to make some money, right? Read about my use of affiliate links and see how you can easily support Beyond Mommying.
Try new things. The only path to growth is by challenging yourself and trying new things. I'm trying a new Facebook strategy starting this month and will probably be mixing up a few other things as well.
So stay tuned for a great 2017!