Writing has been a constant struggle for us since starting homeschooling, and instead of continuing to avoid it, this year I decided to make writing a priority. I've tried many things to encourage writing, and while some are successful, others are met with hostility and frustration.
Note: This post contains affiliate links and images meaning if you click any product link and make a purchase, Beyond Mommying may receive a small commission which is used for the upkeep of the website; however, it will not affect your purchasing experience in any way. Read more about our use of affiliate links.
My plan to start writing off on the right foot with Sugarplum (2nd grade) by using the WriteShop Primary A program has worked. She loves the program and begs every day to do writing.
But unfortunately, Honeybun (4th grade) is still a reluctant writer. She isn't so enthused about anything having to do with writing, so in addition to using WriteShop Primary C with her, I'm also encouraging her to practice and explore writing in other ways. I find by making writing not a chore or task but rather a fun thing, she is much more willing to do it, especially when it's centered around something she's interested in.
Ideas to encourage children to write:
Keep a journal
I started giving my girls sketch pads and small notebooks years ago after they started stealing my computer paper to draw pictures on. What started as a way to keep their art contained (and their hands out of my printer) has morphed into a place where they write stories and scribble down their thoughts. It's not something I look at unless they ask me to, but I'm happy enough knowing they're choosing to use their free time to write.
Get a pen pal
Honeybun has been writing back and forth with a friend since he moved across the country almost two years ago. She writes him letters about what's going on in life and will send him pictures and sometimes little trinkets. Both girls have also been recently writing with their Grandma. Letters are a great way to learn to express one's feelings and thoughts coherently, and there is a natural reward for their effort when they get a response back!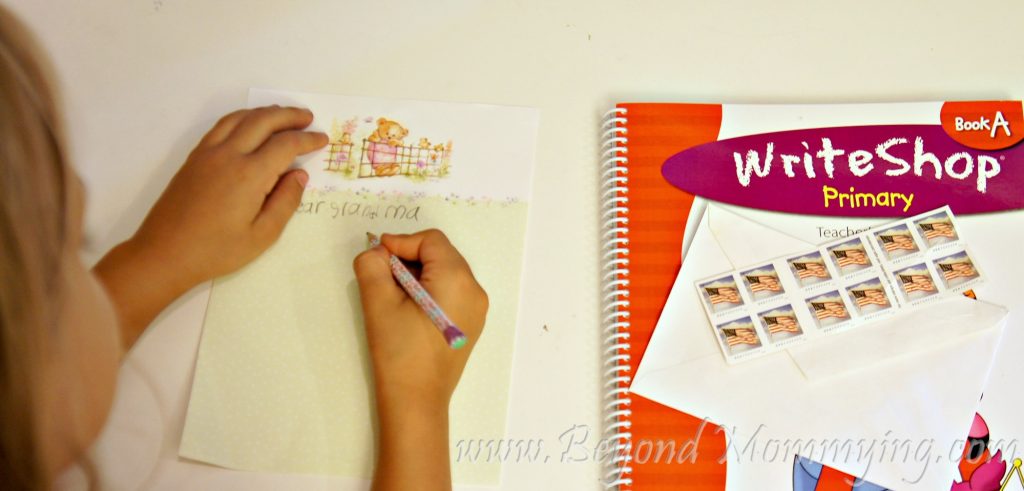 Create their own books
I invested in quite a few blank books for my girls to use for various things. We take them when we travel new places so they can record their travels. They also use them to make books about things they're interested in which they add to our family bookshelf to share with their brothers and each other. Each book they make is both authored and illustrated entirely by themselves, and they take great pride in their worked. By allowing them to tap into their own interests and share their personal knowledge with others, it makes writing rewarding, and they're always excited to read their latest masterpiece.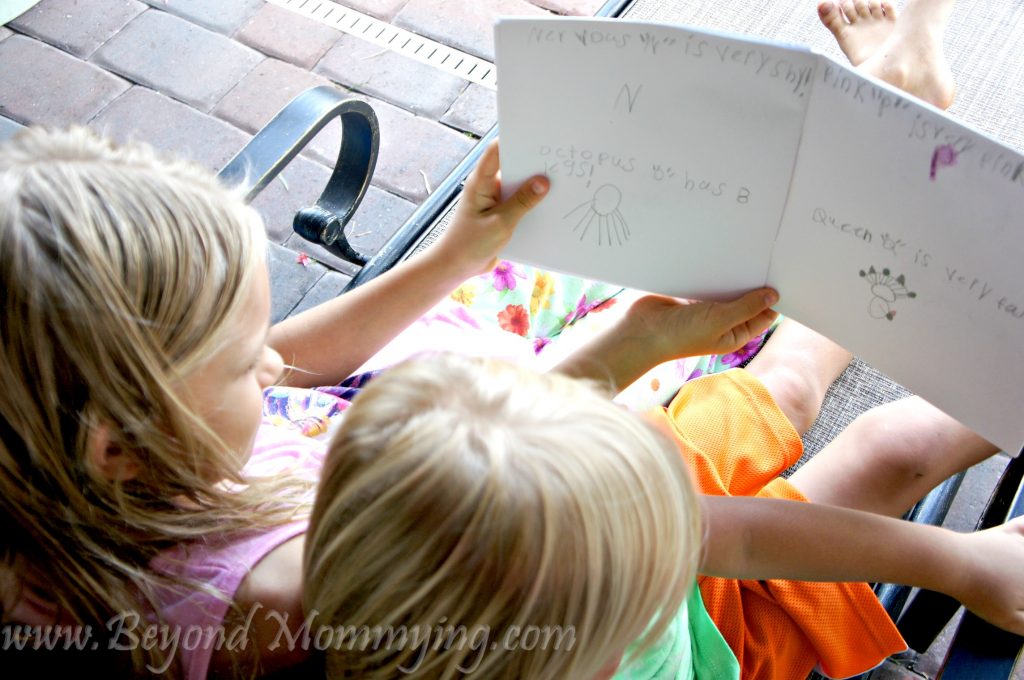 Play make-believe
This weekend the girls decided to create a "Saturday Cafe." They served hubby, the boys, and me breakfast and even wrote up menus for us (I, of course, also made them give us a proper bill and do the math to give us change!) Creating and pretending to run stores, restaurants, libraries, post offices, and other businesses they are familiar with is a natural way to encourage children to write because writing is essential to all business, and kids often don't even realize they're practicing writing while setting up and managing their make-believe establishment.
Do a Research Project
We go to the library often (see my tips for surviving the library with little ones), and while I let all my kids pick whatever books they want, I do require my girls to get at least two non-fiction books (out of their 7-8 books total). I realized, though, that they weren't always reading the non-fiction books they've chosen, and they often just walk over to the shelf and pull anything off.  Therefore I started having them do research projects with their books as another way to encourage children to write.
We use a KWL pamphlet I created for them, which has separate sections for:
what they know before they read the book
what they hope to learn
what they do learn
the resources they used
what they want to learn next
The pamphlet (which you can download for free below), encourages them not only to choose books that they're interested in and will actually read but also to write about what they read. It also encourages them to continue expanding their knowledge on topics they like.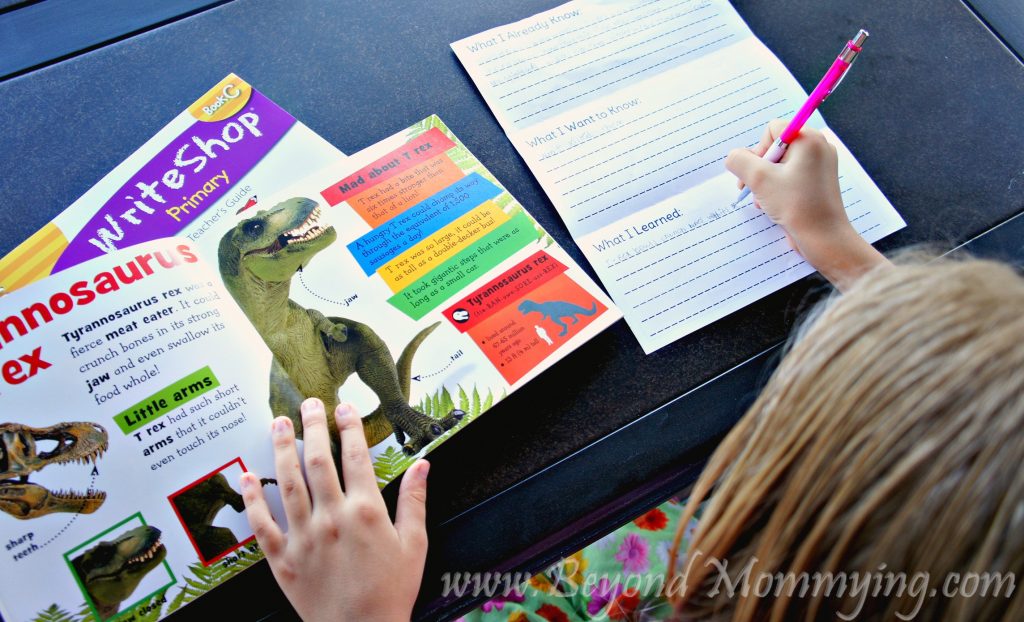 What other ways do you encourage children to write more often?
For a great homeschool or supplemental writing curriculum for elementary aged kids, check out how we are using the WriteShop Primary program and how to set up a great writing center and check out or purchase the program at WriteShop.com.
(image is an affiliate link)
Download the FREE Printable KWL Research Pamplet:
Please provide your name and email address for your free download.