We've taken quite a few trips since Pipsqueak was born and we started to use cloth diapers. Some have been just up the road to Orlando, some a little farther like Atlanta and others have involved flying across the country to visit family.
I've pretty much got packing for the family down to a science (my handy printable packing lists for kids of all ages helps!) but the one thing that still always takes a little more thought is diapers.
When Sugarplum was small and we were regularly tromping around Europe, I would put 10 diapers out each morning the week before and count how many we used each day then packed accordingly. It was the perfect little system and prevented us from taking way too many or running out and having to try to find some in whatever random city we were in. Plus the suitcase space reserved for diapers when we left home was available for souvenirs on the way back (though extra diapers are awesome for wrapping fragile mementos for the trip home!)
When visiting family in the states, it's a little bit easier because I know I can run out and grab some more if I need them (or sometimes when heading to Colorado my mommy has been to known to buy some ahead for us).
Traveling with cloth diapers complicates things a little more, though. It's not as easy as simply counting, packing and going. First, I have to decide if I'm going to take the cloth diapers at all or just use disposables.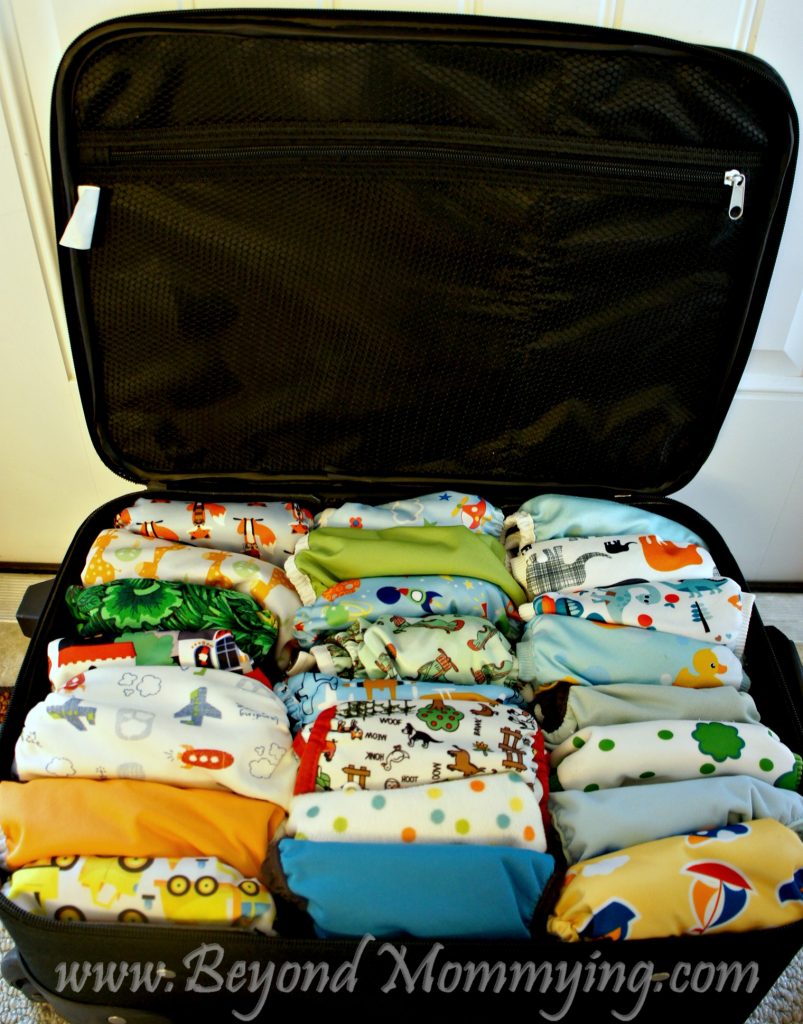 When deciding whether or not to travel with cloth diapers, I always ask myself:
Will I have space to take them and bring them back?
Will I have a place to put the dirty ones and/or will I want to carry them around with me the entire trip/day?
Will I have a place to easily wash them?
Will I have time to wash them?
Will I want to wash them?
If washing isn't an option, do I want to haul back a bunch of stinky, dirty diapers?
For me, unless I know I can wash them before coming back, I just stick with disposables.
The two times we've been to visit family in Colorado for my sister's wedding, though, I did take my cloth diaper stash because I was going to my childhood home and I knew I'd be willing and able to wash as often as I liked (which worked out well when I was doing laundry multiple times a day when Pipsqueak got so sick!)
Here's my tips when traveling with cloth diapers:
Wash everything before you leave
I always make sure all of my diapers are clean before we leave on a trip whether it's for a few days or a few weeks. It usually means using disposables for a day or so but much like coming home to a nice, clean house, it's always nice coming home to clean cloth diapers! If I'm taking them with me, I'll pack what I need and use disposables until we get to our destination so that I don't have to carry around heavy, stinky diapers along with all the other nonsense my kids require.
Pack small and easy to wash cloth diapers
My cloth diaper stash is mostly covers and flats which I have found the easiest to travel with. Because flats and covers are a single layer, they get unfolded in the wash and so are much easier to get clean than all-in-one styles or thick inserts with many layers plus they're usually cheaper (I use flour sack towels as flats) so if I don't have room to bring all the flats home, I can ditch them or leave them for next time without missing them. Plus they dry a lot faster and don't take up as much room as bulkier diapers and can easily be shoved into the nooks and crannies of your suitcase.
Use liners and disposable wipes
There are many ways to deal with dirty cloth diapers and many full-time cloth diaper users have a diaper sprayer at home to clean the poo off soiled diapers. But when traveling, that isn't always an option. Using disposable liners and wipes can be a life saver when traveling with cloth diapers because you can just toss most of the poo without a lot of hassle which makes washing the cloth diapers a lot easier.
Know what your wash routine will be
If possible, ask ahead what kind of machine you'll have available and what kind of laundry detergent. If you have a preferred laundry detergent, have someone pick it up ahead, get it there or bring enough powder with you packed in your suitcase. Order some water test strips to test the water hardness if you'll be washing many times in case you need a softener like Borax or Calgon (one or two washes in hard water shouldn't hurt your diapers, especially if you're using easy to wash items as mentioned above.) If you plan to wash by hand in the tub or sink, consider getting a small wash board to help the process.
Have a storage plan
At home I keep the dirty diapers in an open-air laundry basket, one upstairs and one down. I just drop the dirty insert in and if not soiled, let the cover air dry for another use. This system isn't always doable when at someone else's house or at a hotel and so I turn to the classic wetbag. I prefer the small zippered style because it's more manageable and easier to open/close at every change. I simply put all the dirty inserts in the wetbag and zip it back up to contain the smell until I'm ready to wash.
Come up with a nighttime plan
It took me awhile but I finally found a nighttime solution that gets Pipsqueak from bedtime to breakfast time without leaking. But my nighttime diapers which are multi-layered hemp all-in-ones stuffed with a flour sack towel aren't the easiest to get cleaned through all the layers so I tend to just use disposables at night even when traveling with cloth diapers to use during the day. (Unless I'm going to my mommy's house in Colorado, then I take all my diapers because she has a super-powered old-school washer that always gets my diapers spotlessly clean!)
Wash before you leave
Again, I make sure when traveling with cloth diapers that they're always clean to come home. Whether flying or driving, I don't want to deal with the smell and extra weight of dirty diapers. It means a few more disposables while washing and traveling but a lot less hassle.
What's your preference? Take the cloth or leave it home?
Below are some of my favorite items for making traveling with cloth diapers a breeze. Clicking and making a purchase may earn Beyond Mommying a small commission which keeps the website running. Read more about our use of Affiliate Links.
Pin it!