St. Patrick's Day has been one of my favorite holidays since returning from Ireland. It's a great time to remind my kids what's so special about our former home and have a little celebration.
We've held a yearly St. Patrick's Day party each year since we moved back with the exception of last year when we were out of town for my sister's wedding which means this year is our first time hosting the yearly party in our new home.
Part of our party tradition is serve a traditional Irish meal (I always do Shepherd's Pie, whatever traditional sides I fancy that year and Banoffee Pie for desert) but because the party gets started in the afternoon so the kids have plenty of time to swim and play, I also always do a green treats snack spread.
This year I tried a few new treats for the party. The kids helped me make Honeybun's Peppermint Melty Cookies but used rainbow fruit flavored candy canes instead of peppermint.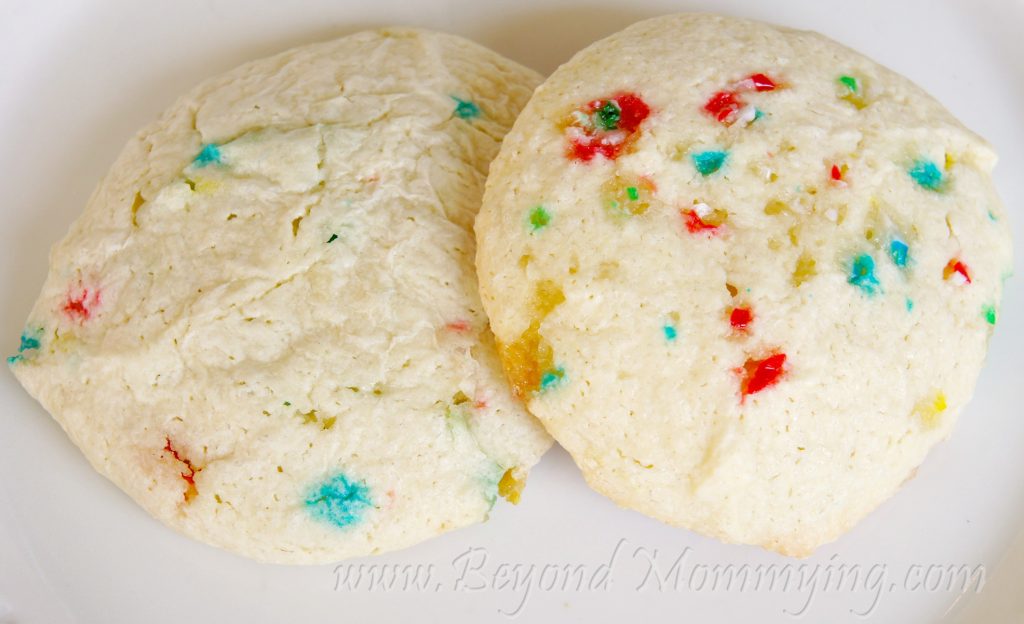 I also decided to make some of my favorite Irish scones but decided to add a green twist: kiwi.
It seems like an odd choice and you're probably thinking "that has absolutely nothing to do with Ireland!" which is true, other than their green color, of course. But weirdly kiwi makes me think of our time in Ireland, it's a fruit we almost always had in the house. The store where I ordered our groceries offered a special deal on mix-and-match bags off apples, oranges and kiwi so kiwi quickly became a family staple and all of my kids love it.
Irish scones are one of my favorite things to make as you can't find them in the states. Unlike the crumbly, hard scones you find at bakeries here, Irish scones are more like our biscuits: soft and creamy.
Making Irish scones has become a family tradition and one that my girls love to help with and the process is easy enough that they can almost make them on their own.
To make Shamrock Green Irish Scones:
What you need for Kiwi Green Irish Scones:
12 oz. all-purpose flour plus more for kneading
1/2 teaspoon salt
1 1/2 teaspoon baking soda
2 oz. butter or margarine, softened
1/2 cup pureed kiwi (about 3 medium kiwi)
1 medium kiwi diced
2 tablespoons sugar
Green food coloring (optional)
How to make Kiwi Green Irish Scones:
Preheat oven to 450 degrees.
Place the diced kiwi and sugar in a bag or lidded container and shake to coat the kiwi.
Mix together the dry ingredients.
Cut in the butter until small balls form.
Add the kiwi puree and food coloring, if using.
Mix until the dough comes together and all of the flour is incorporated into the dough.
Add the diced kiwi and fold into the dough.
To make drop scones:
Use an extra-large cookie scoop or two large spoons to scoop the dough into rounds onto an oiled cookie sheet.
Bake Irish scones for 7-10 minutes.
To make shamrock shaped Irish Scones:
Turn dough out onto a well-floured surface and knead until dough is no longer sticky.
Roll dough to approximately 1/2 inch thickness.
Cut out small heart shapes from the rolled dough. When you run out of space, re-roll the dough and continue cutting.
Arrange three heart-shaped pieces with the bottom points together on a cookie sheet.
Bake the scones for 7-10 minutes.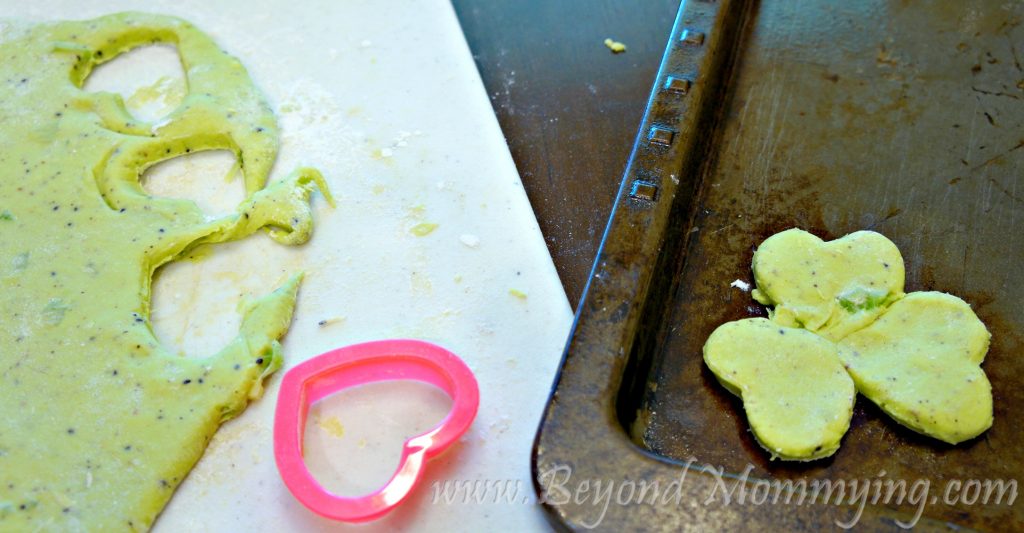 Pin it!