This shop has been compensated by Collective Bias, Inc. and its advertiser. All opinions are mine alone. #FamilyMovieWithKleenex #CollectiveBias
Up until last week, the only experience my kids have had with that cute little blue fish we call Dory was on the ride at Epcot. Somehow, Dory and her cute little orange sidekick hadn't made it into our family movie night rotation even though Finding Nemo has been one of my favorite animated movies since it first came out (yes, even though I was in college when it originally came out!)
I've been saving seeing Finding Dory with them until we'd watched the original movie together which means we missed the chance to see it in theaters but Christmastime gave us the much-needed downtime with no school or afternoon activities in which to settle in together as a family and experience both movies together.
As I expected, all of my kiddos loved the original movie as much as I did and I enjoyed Finding Dory as much as they did (and as much as the first). And luckily we had our soft, strong and absorbent Kleenex® Finding Dory Tissues handy for the end of the movie when Dory finally found her parents and we were all overcome with joy for her. Which came at the perfect time, just after a great holiday where we somehow had no fighting, and reminded us of all the things we love about each other.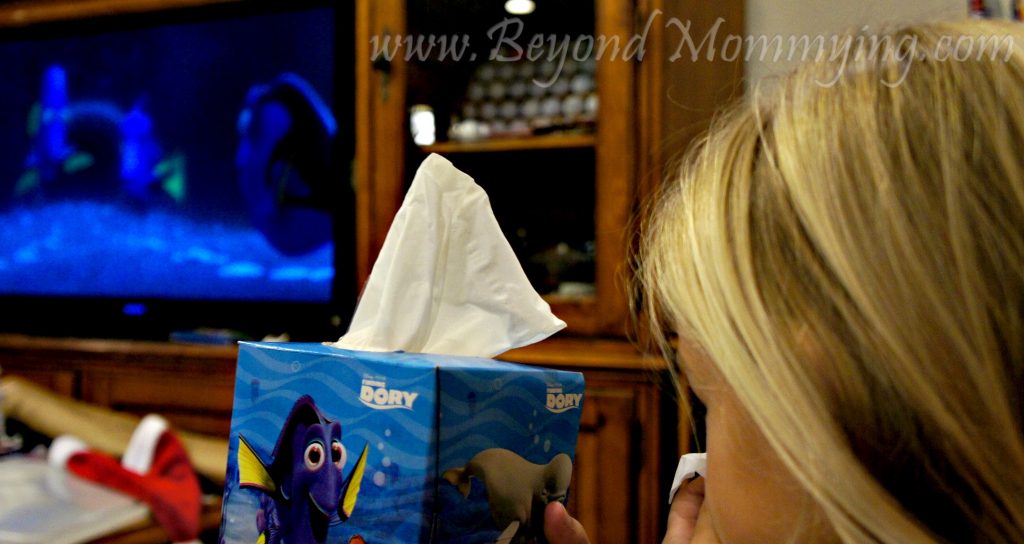 I haven't yet taken the time to do my full Under the Sea aft project with my own kids (it's one I did as a preschool teacher in my pre-mommy days) so I decided post-Dory was the perfect time to do a mini art project and instead we made Kleenex Sea Coral Art.
Finding Dory Kleenex Sea Coral Art
What you'll need:
Kleenex® Finding Dory Tissue Box Designs
White Paper
White Crayon
Blue Liquid Watercolor Paint (or food coloring)
Spray bottle
Orange Stamp Pad
Creating the Finding Dory Kleenex Sea Coral Art Project:
Gather your supplies and mix equal parts water and liquid watercolor paint in the spray bottle (if using food coloring, add 10-12 drops of color to 1/2 cup water and test on a scrap piece of paper to make sure it's bright enough and adjust as necessary.)
Draw waves on the paper with the white crayon.
Rip long, wide strips on a Kleenex towards the middle bottom.
Twist each Kleenex strip until the entire Kleenex is twisted except for the unripped middle section.
Place twisted Kleenex on a paper towel and liberally apply the orange ink by pressing the stamp pad onto the Kleenex.
Move Kleenex to the paper and press onto paper to transfer ink.
Leave Kleenex in place and lightly spray paper with liquid watercolor paint.
Let project dry completely before moving.
You can get the Kleenex® Finding Dory Tissue Box Designs used in this craft at your local BJ's Wholesale Club (find a location here). The tissues come in a convenient 12-box package which is more than enough to get even my large family through cold and flu season (and have some left over for crafting!) And what's even better is that the pack comes mixed with cute Kleenex® Finding Dory Tissue Box Designs that are perfect for the kids' rooms as well as neutral printed boxes which are nice for adult spaces and guest bathrooms.