Over the past eight years and four kids, we've amassed a significant amount of toys. And no matter how hard we try to keep them under control and to a minimum, it constantly feels like our house is being over run with toys. Which is why I've spent the past few years focusing on building toy sets and adding to what we already have instead of getting new, novel things.
Note: This post contains affiliate links meaning if you click and make a purchase, Beyond Mommying may receive a small commission which is used for the upkeep of the website.
Each Christmas and birthday we get new pieces for the toy sets we already have and our kids enjoy playing with.  It's allowed our toy collection to grow without having to give up more space, the new pieces simply go in with the toy sets we already own.
But this system has also meant we have to be a little more deliberate when buying presents, especially when buying new things. I now like to make sure every toy can grow and expand and that we will be able to find more pieces to go with the new toy sets we get.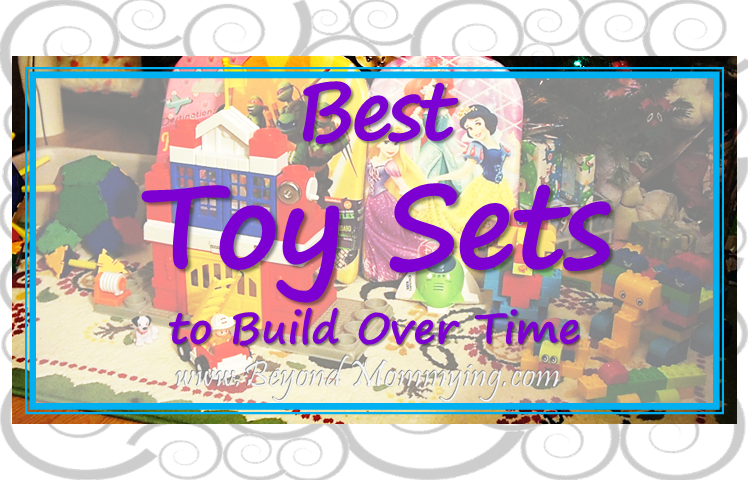 Here are a few of our favorite toy sets we've been building over the years and will continue to grow and love for years to come:
Wooden Train Set
We started with the basic figure-8 set and have added (and added and added) to it over the years, getting new and interesting pieces when we find them as well as adding more basic straight and curved in order to make our displays more elaborate.


Duplo Legos
I love the Duplo size Lego blocks for many reasons. For one, they're not a choking hazard plus they're also easier for tiny hands to work with. They're also less likely to throw up all over the place and get stepped on in the middle of the night or if they do, they're at least easier to spot! I also enjoy working with them more than the little ones because it's quicker and easier to build large, elaborate structures.


PlayMobil
We're new to the PlayMobil club but my kids are becoming fans, fast! It started with our first visit to PlayMobil FunPark here in South Florida when I bought each of the kids a single figure. We've added additional figures since then and my kids love mixing and matching the clothes and accessories, plus they're small enough to put in a little box and put away (though I do have to confiscate some of the smaller accessories to keep them out of tiny mouths.)


Hot Wheels
Doodle has been obsessed with cars and trucks and fire engines and anything with wheels for years and Pipsqueak is right behind him but all those vehicles add up to a lot of storage space. Hot Wheels and similar sized cars are awesome because you can get a car carrier or case to keep them all tidy and there are also many tack options available to create endless fun.


18″ Dolls
There are now a huge variety of options in the 18″ doll category thanks to the ever-popular American Girl dolls. My girls spend way more time with their 18″ dolls than they ever did with fashion dolls and we've slowly been building their collection of clothes. We opted for the generic dolls for the girls so that we can invest more in to clothes and accessories and we gave them a wardrobe for their birthdays to keep everything tidy.