A few weeks ago, I had the pleasure of meeting local South Florida photographer Andrea Harborne who shot some new photos for the blog (which I can't wait to reveal later in the week!) Andrea often works with families, capturing life's special moments, and took the time to answer a few questions about doing family photo shoots (she's also giving away a free photo session, details below!)
Ask a Family Photographer:
When is the best time to do a family photo shoot?
As a photographer, lighting is a key feature when capturing any image. This is one thing that can make of break a photograph. The 'golden hour' is universally known by photographers as the best time in terms of lighting. It is roughly the first hour of light after sunrise, and the last hour of light before sunset where the sun is low in the sky producing a soft, diffused light. For families, this could be a difficult time as trying to rally your family together at 5am, particularly with a teenager, can be difficult. My rule is, advise the family to meet as early or as late as they can in the day to avoid the harsh midday sun and I will ensure I chose the best location, in the shade where everyone is cooler and more comfortable, and capture some amazing shots.
Where are some of your favorite locations to do family sessions?
My style is light, bright and airy, and I love the soft, warm colors of the beach. Here, I see the opportunity to focus on the family, capture their raw moments candidly, and feel relaxed in the wide open space as this will often create the best images. However, it's important for the family to choose a location that resonates with them, so if they have a favorite location that their children enjoy visiting I often recommend we use that spot as the children will have familiarity which in turn makes them happy and comfortable.
What do you recommend families wear for photo sessions?
Any clients who book a photoshoot with Andrea Harborne Photography will receive an 'Essential's Guide' that I have crafted over time. This includes recommendations on what to wear for a shoot. It varies between each family, but as a general rule I recommend wearing solid colored clothing, muted tones rather than harsh fluorescents, coordinating between the family so perhaps chose 1-3 colors that work nicely together and have everyone work within that palette rather than everyone wearing matching outfits, but most of all, choosing an outfit that reflects your personality that you are comfortable wearing.
Do you prefer action shots or posed pictures and why?
Personally, I prefer candid shots where the family are being themselves in that particular occasion. I often find that many clients have never had a professional photoshoot before, so staging posed pictures can make them feel a little awkward and self-conscious at first, so starting off with candid moments allows them to relax, have fun and start to 'trust' me as the photographer. Candid shots feel more honest, and the feedback I've received has demonstrated that this allows the family to remember the occasion more than staged images. However, I always ensure I ask the clients what THEY want from the shoot; If they want more formal pictures, or would rather have me perform a more photo-journalistic approach to the session. I find possibly doing a mixture of both ensures the client leaves my shoot happy and confident they will receive fantastic pictures from their time with me.
What is your favorite thing about working with families?
It allows me to feel part of the family during that 1-2 hours with them. I get to know my families really well as I shoot some of them 2-3 times a year – birthday's, special occasions, holiday cards etc. – so they become great friends. The variation with each family never makes for a dull day at work! There's always one child (or adult!) that has the most infectious laugh, funny personality, or just an engaging natural presence that makes it easy and fun to work with.
What is the most important thing parents can do to help a family photo session go smoothly?
There are lots of tips in my Essential's Guide, but a few important things include
1. Be sure to not schedule your session around your child's nap/bed time. A well-rested child is a happy child.
2. Don't show up on an empty stomach! This will be all you, and your children will think of throughout the whole session.
3. Leave plenty of time to get ready and leave plenty of time to arrive to the location. We all know how bad traffic in south Florida can be and rushing before the session can stress everyone out.
4. If I focus on capturing just the children in some of the images, as parents please step back and allow me to natural interact with them. I've found forcing the children to smile makes for unnatural shots.
5. Have fun!
Be sure to check back later in the week to see my tips for preparing for a family photo shoot, and don't miss this great giveaway from Andrea for three lucky readers!
GRAND PRIZE: One FREE photography session of the clients choosing, up to 1.5 hours, 60+ edited images (family, maternity, children, or couples session – excludes weddings and newborns).
SECOND PRIZE: 50% off a photography session of the clients choosing, up to 1 hour, 40+ edited images (family, maternity, children, or couples session – excludes weddings and newborns).
THIRD PRIZE: 15% off a photography session of the clients choosing, up to 30 minutes, 20+ edited images (family, maternity, children, or couples session – excludes weddings and newborns).
Please see full terms and conditions below.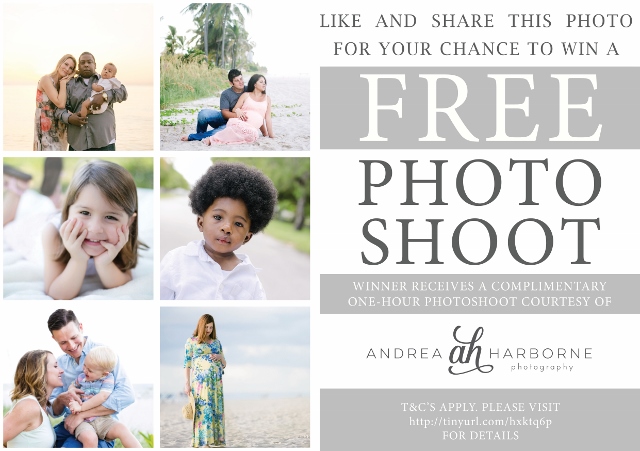 1. Contest ends November 1, 2016. Winners will be chosen and notified within 48 hours and will have 24 hours to respond in order to claim their prize.
2. First prize must be redeemed by December 5, 2016. 2nd and 3rd prizes must be scheduled by December 5, 2016 for a date prior to March 31, 2017.
3. Family of Melissa Roy and Andrea Harborne are not eligible to enter.
4. Prize has no monetary value and cannot be exchanged, sold, gifted, or used in any way other than the above. These sessions are for the winners only.
5. Contest is open to everyone, but the photoshoots will take place within 20 miles of zip code 33312 (Florida).
6. By entering this giveaway, you are consenting to receive periodic e-mail updates and information from Beyond Mommying and Andrea Harborne including information on future giveaways and promotions (your e-mail will never be shared and you can unsubscribe at any time, see Beyond Mommying's full privacy policy).
7. This giveaway is in no way sponsored or endorsed by Facebook, Twitter, Pinterest, Instagram or any other entity, prize fulfillment is the sole responsibility of Andrea Harborne.