A few years ago, I did a Lily Handprint paper craft with the kids and it is still one of my most favorite crafts that I pull out each spring.  The lilies, which are made using a cutout of a handprint are so true to life I wanted to use the idea again so created Tiger Lilies using my Vegan Rice Krispie treat recipe (the color variation in the puffed rice reminds me of tiger lilies!)
Rice krispie treats are one of my most favorite things (I could eat a whole pan and not feel guilty about it!) but it's not something I can share with my son since he is sensitive to both dairy and corn and after an attempt at homemade marshmallows (which turned out delicious though the process was hilarious with 4 little ones "helping"), I discovered Dandies Vegan Marshmallows which don't contain any corn so I created my Vegan Rice Krispie Treat recipe.
Ingredients for Vegan Rice Krispie Treats:
(below are affiliate links, if you click and make a purchase, I will receive a small commission which helps with the upkeep of Beyond Mommying)
The process for making the Vegan Rice Krispie Treats is the same as traditional Rice Krispie treats:
Heat the coconut oil in a pot over medium heat.
Add the marshmallows and stir until melted together.
Reduce heat to low and add the puffed rice and combine (it's easiest to use a soft spatula and fold and smush the mixture until all the rice cereal is integrated and the sticky stuff is distributed evenly.)
Spread onto some wax paper or cookie sheet and flatten to cool.
To make the Tiger Lilies:
Press the Vegan Rice Krispie Treat mixture flat between two pieces of wax paper using a rolling pin to make the mixture even.
Use a blunt knife to cut out the shape of a hand (bigger hands work better for tracing!)
Press the edges of the palm together and curl the ends of the fingers back to make the lily shape.
Place the hand in a small juice glass and freeze to help it harden and keep it's shape.
Use some yellow taffy to create the stamens (roll a few "worms" then press together.  Use flour or powdered sugar on your fingers to keep it from sticking!).
Brush the centers of the flower petals with some diluted orange food coloring.
Add a green straw, fork, spoon or honey stick for the stem!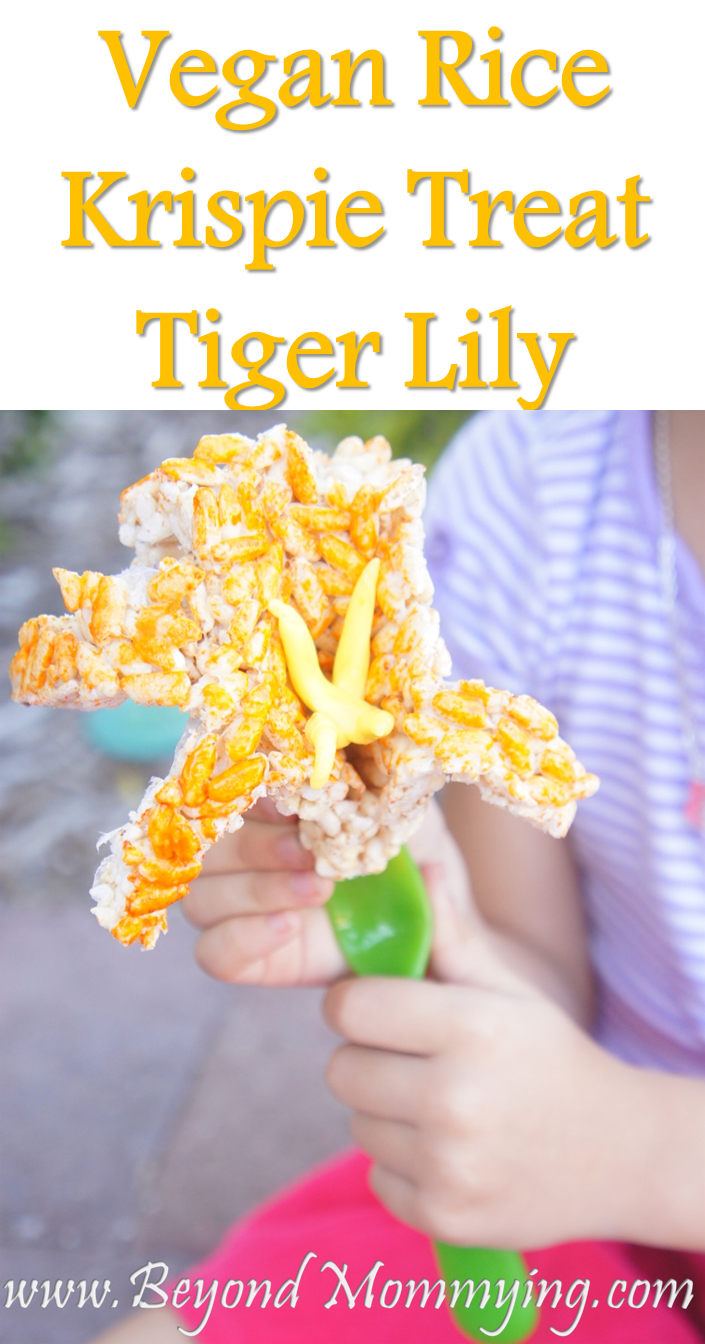 For more spring posts, visit a few of my favorite bloggers: