April 7 of each year is National Beer Day and I'm kind of excited because last year I didn't get to participate (since I was pregnant and all).  And even though I'm still breastfeeding and some people will tell you beer and breastfeeding don't mix, I follow the standard advice of everything in moderation.
When my eldest (now nearly 9) was a baby, the advice was to pump and dump when drinking excessively.  But now a single beer (or glass of wine or other alcoholic drink) is generally considered safe while breastfeeding because alcohol is processed in breastmilk the same way it is in our bloodstreams.  So basically, if you feel drunk, there will be alcohol in your milk and you shouldn't nurse but no need to pump and dump as the alcohol will metabolize out of your milk the same as it does your blood and you are safe to nurse once feeling normal.  (More info on beer and breastfeeding at KellyMom.)
But beer and breastfeeding can sometimes go hand-in-hand as it is believed that some of the ingredients in beer can actually help increase a mother's milk supply (though I can't speak from experience since my supply is overwhelming to begin with!).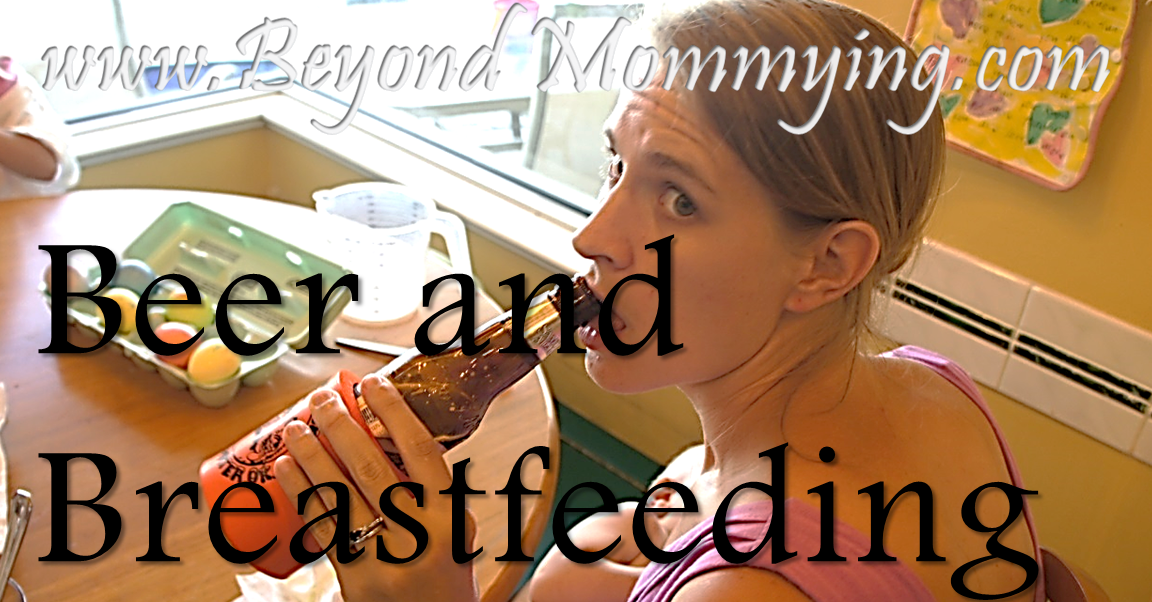 So what are the magic ingredients that make beer and breastfeeding a match made in craft-brew heaven and what beers give you the most bang for your beverage?
Let's start with the obvious:
Brewer's Yeast
This is one of the base ingredients for beer (hence the name!) and is what actually creates the alcohol (when the yeast eats the sugar, it off puts gas which creates the bubbles in beer and also creates a by-product of alcohol, this is the fermentation process of beer making!)  But brewer's yeast is also known to increase milk production in breastfeeding mothers and can be found in many lactation cookies and recipes.
Barley
Barley is the base grain for most beers (though some gluten-free beers use other grains) but craft-brewed beers generally have much more barley than mainstream big-brewery beers.
So what other ingredients should you look for to get the most benefit from beer and breastfeeding?
Oatmeal
Oatmeal is another great milk production booster and when it comes to beer, there is the nice, smooth option of an Oatmeal Stout which incorporates oatmeal into the brewing process with the barley.
Try: Samuel Smith's Oatmeal Stout; New Holland The Poet; Breckenridge Brewery Oatmeal Stout; Trader Joe's Stockyard Oatmeal Stout; Rogue Ales Shakespeare Oatmeal Stout.
Ginger
Ginger is also known to increase milk production and there has been an increase in the popularity of Ginger Beer since the resurgence of the Moscow Mule cocktail.  Ginger beer can be found in both alcoholic and non-alcoholic forms and is different from ginger ale or you can often find gingerbread flavored beer around the holidays.
Try: Crabbie's Original Alcoholic Ginger Beer; Q Ginger Beer; Fever Tree Ginger Beer; Blue Moon Gingerbread Spiced Ale; Goose Island Gingerbread Dream Porter; Shipyard GingerBreadHead Ale.
There are also foods known to increase milk supply that aren't traditionally found in beer but that some craft brewers are now adding in to create new flavor experiences:
Many of theses unique beers are locally brewed and only available nearby or may be seasonal and/or no longer brewed.  I've tried to list those that are most likely to be found nationally, you can also check out RateBeer.com to see what flavors and ingredients may be available locally to you.
Fennel
Try: Flying Dog Disobedience or Fig and Fennel Stout.
Red Raspberry
Try: Stone Cali-Belgique IPA – Red Wine Barrel: Raspberry, Lime & Starfruit.
Carrots
Try: Funky Buddha Carrot Cake; Cigar City Carrot Cake Brown Ale  (both local to Florida)
Nuts
Try: Abita Pecan Harvest Ale; Rogue Hazlenut Brown Nectar; Samuel Adams Hazel Brown.
Sweet Potatoes
Try: Funky Buddha Sweet Potato Casserole; Cigar City Cider and Mead Sweet Potato Pie  (again, both local to Florida)
Remember, when pairing beer and breastfeeding, the key is moderation.  1-2 beers in considered safe for a breastfeeding pair but it's important to know your own limits.  And beer should never be used as a substitute for other ways of increasing milk supply such as water intake, a healthy diet or meeting with a lactation consultant.
Read more from Beyond Mommying on my breastfeeding experiences.
Looking for other ways to boost your breastmilk supply?
Below are affiliate links, if you click and make a purchase, Beyond Mommying will receive a small commission which is used for the upkeep of the website.