In the village we lived, just South of Dublin's city centre, is a wonderful little Italian restaurant that is well-known in the city (they have a 2nd location in the city centre).  We first tried it for our birthday dinners (hubby's birthday is the day after mine) when Sugarplum was just a few months old.  I ordered their special pumpkin pasta and have been dreaming about it ever since.  This is my copy-cat recipe for Pumpkin Cream Pasta.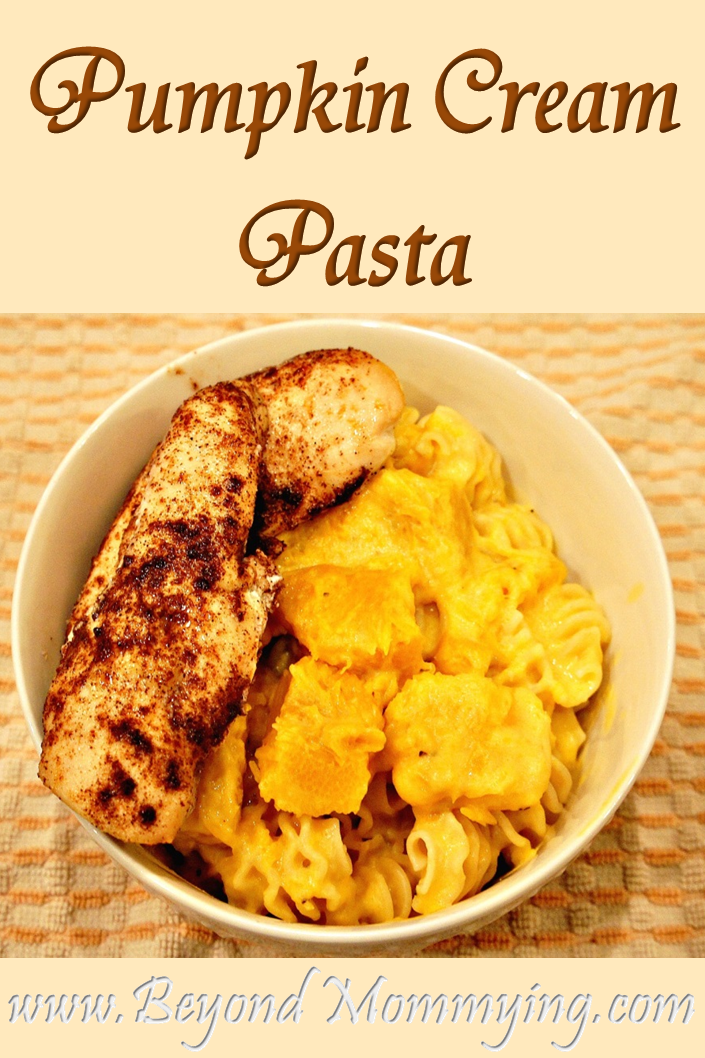 1 box Shaped Pasta of your choice
2 cups Heavy Cream
1 small Pie Pumpkin
1 teaspoon Cinnamon
Cut pumpkin in half and remove seeds.  Roast in 350 degree oven for about 30 minutes or just until tender.
Score 1/2 of pumpkin into a 1/2 grid and peel.  Set aside cubes.
Scrape out 2nd half of pumpkin and puree with enough water to make smooth (usually just slightly less than the amount of pumpkin).
Cook pasta according to directions on the box, drain.
Return pasta to pot and add heavy cream, pureed pumpkin and cinnamon.
Cook over medium heat until slightly thickened.
Add cubed pumpkin and heat 5 more minutes until warmed throughout.
(Soy milk can be substituted for the cream for a dairy-free version but the sauce will not be as thick)
I usually serve it with Spiced Chicken which I simply bake in a greased pan, sprinkled with a little cinnamon.  (Bake at 350 for about 30  minutes, turning halfway through).