Nothing says Easter more than cute little bunnies everywhere and spring crafting is one of my favorite things!
Here are four quick and easy bunny crafts for little ones of all ages.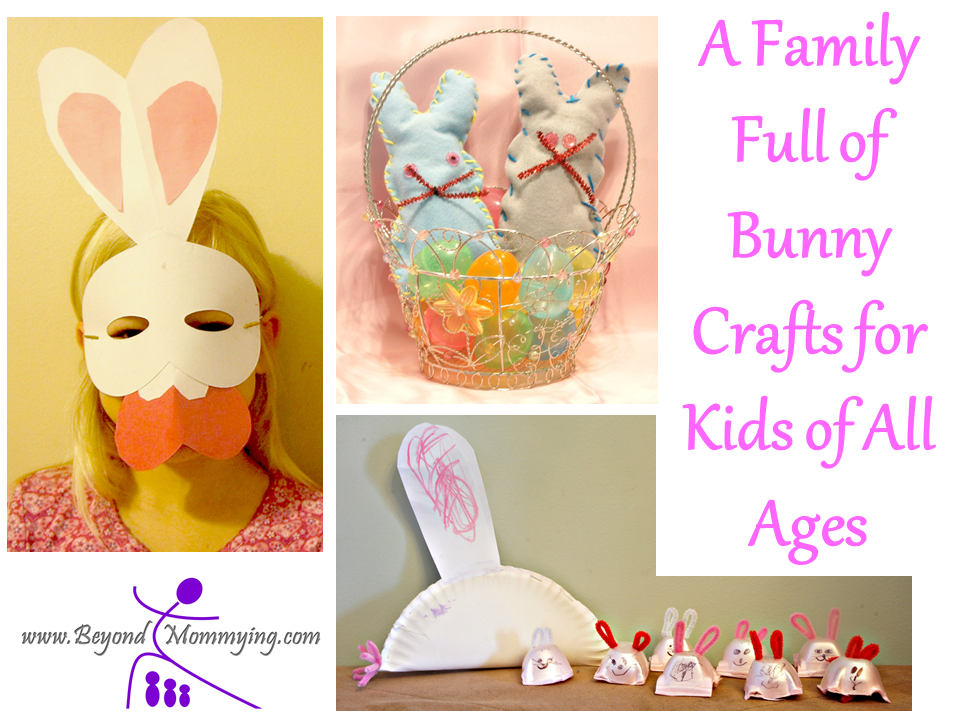 Sugarplum made this super easy and cute paper plate bunny last year and this year we added a few little baby bunnies to the family!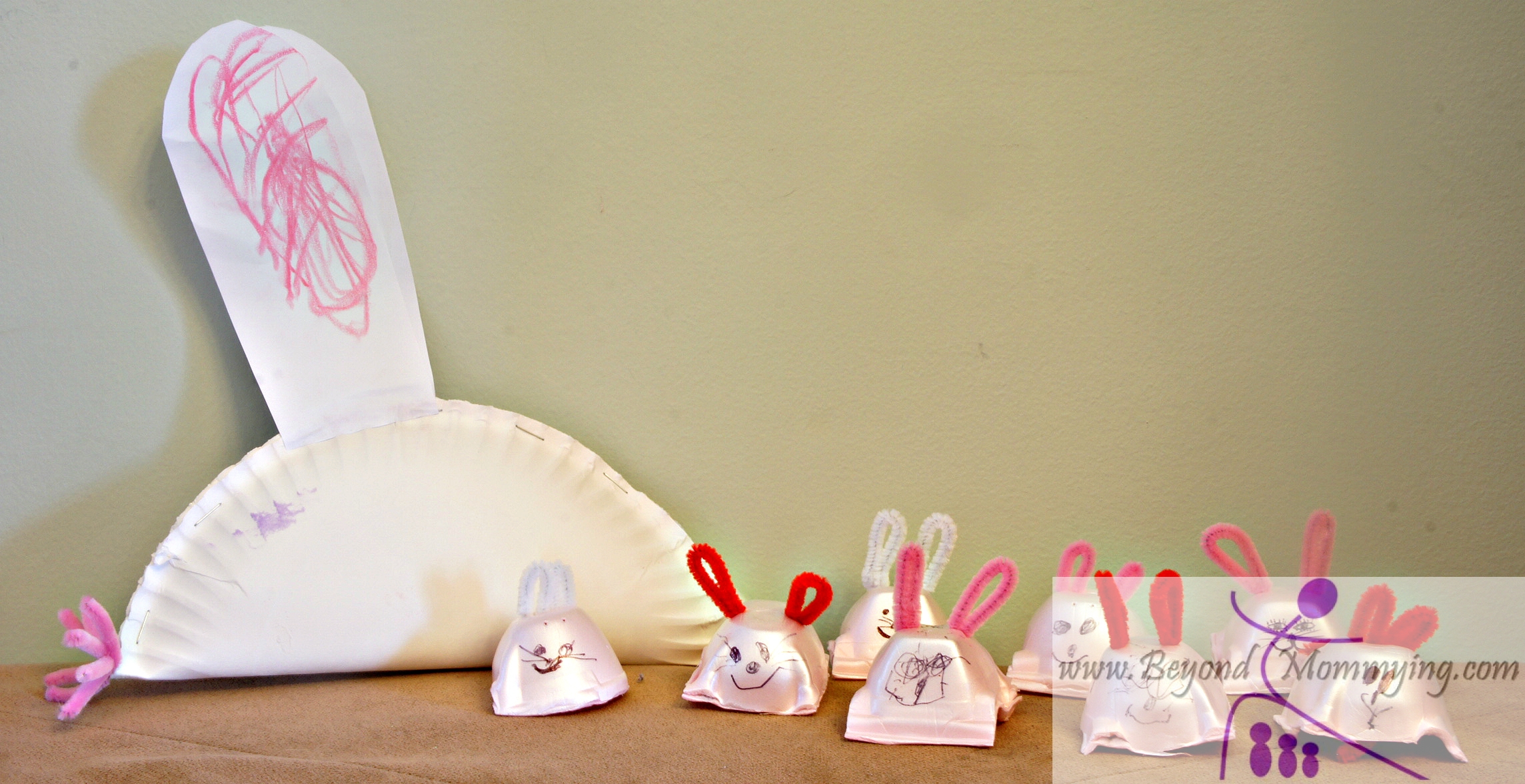 To make the baby bunnies:
Cut the bottom of an egg carton into individual rounded pieces.
Draw a face on one side of each round.
Poke two holes on the top of each round and insert a folded pipecleaner into hole.
Add a fluffy cotton ball tail.
At Valentine's Day, we made Heart Animal Masks and Honeybun chose to make a bunny.  We still have it and she declared yesterday that it also makes a perfect Easter mask, and she is right!  Find the downloadable template here.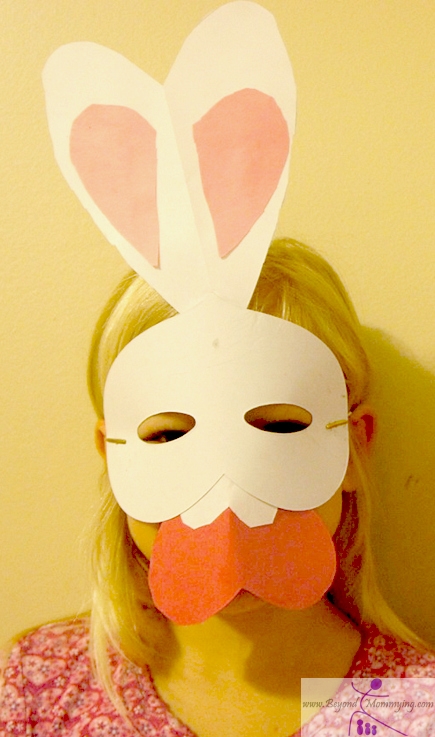 While these other crafts are super cute, I have to admit that these little hand sewn bunnies are probably my most favorite.  Sewing is a big part of my life, I enjoy hand constructing things from curtains and comforters to tutus, slings, doll dresses and dress up dresses.  The girls have often watched and helped me with my projects but I've not yet tried to teach them to sew.
But I decided it was time and what better way to start than making super cute Easter Bunny Pillow Pets.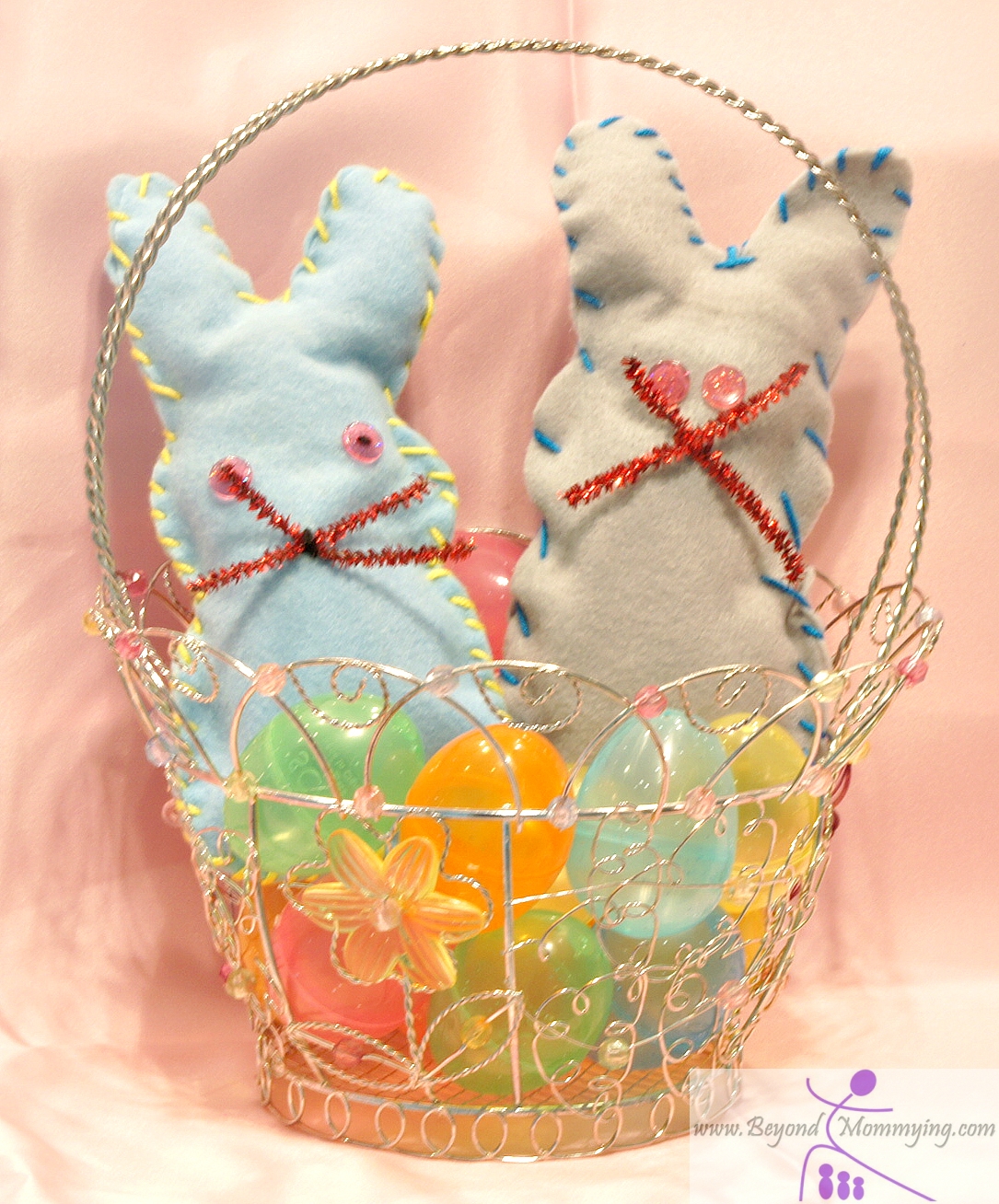 We started by cutting two bunny shapes out of felt (get the kindsewn bunny pattern).
I had Honeybun help me sew on two button eyes and pipecleaner whiskers to the front of one felt bunny and a pom-pom fluff tail to the back of another.  (Sugarplum glued on her bits at the end).
I then had the girls use large needles with string from a friendship bracelet kit (embroidery floss would work as well) to stitch around the perimeter of their bunnies. They've had lacing cards in their playroom stash for years so sort of got what to do.  Sugarplum got it right away, easily making long, uneven stitches.  Honeybun struggled a little bit more getting started (fine motor skills have never been her thing!) and got frustrated more than once but she ended up with beautiful, even stitches almost as good as I would have done!
We left a small part open at the end so we were easily able to stuff the bunnies full of fluff and then I stitched the rest of the opening up and tied off the thread and now we have the best little handmade bunnies to enjoy every Easter for years to come!